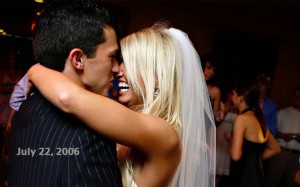 As a 24 year old, I was married to my amazing husband, Josh, working, pursuing my PhD, and we were on our way to growing our family. It seemed as if everything was falling into place as I had dreamed since I was a little girl. Then, on October 17, 2011, I was diagnosed with cancer- yes, an extremely aggressive form of stage 3 breast cancer.
We knew from the moment of my diagnosis that God would heal me; however this journey has been the toughest physical and spiritual fight of our lives. Satan has tried to knock me down in every way possible, but God ALWAYS wins, and He showed out again in my defeat of cancer. 6 months of chemotherapy, a double mastectomy, 30 radiation treatments, and multiple surgeries helped to prove what I knew God was already doing and what He already paid the price for-my healing.
As of April 30, 2012, I was deemed cancer-free! Since my cancer-free status, I have been attacked in seemingly every way, but God has continued to prove that I am healed and sealed. Satan continues to attempt to destroy me, but God came to give me abundant life, and that is what I am determined and striving to live.
Doctors continue to monitor me as my cancer has a higher likelihood of recurrence, but I am standing in faith that God will complete this good work He has started in me; He already has. I am now 30 years old, with my best friend and husband of over 11 years by my side, as we continue to be desperate for the life God has intended us to live. I am slowly learning to take one day at a time, trusting God to hold me every moment of every day.
Thank you for visiting our blog. My husband started this blog when I was first diagnosed to keep our family and friends updated on my progress. It has now turned into a ministry where we continue to share our story and our hearts. We pray you are blessed by our story and that the evident power of our Lord Jesus Christ draws you near to him. He truly is ALL that we need.
Below is a quote from my husband when he first started our blog. We continue to stand hand in hand, heart to heart, fully believing that I win. Jesus wins. We will continue to hold fast to our confession of faith of my healing without wavering, for He who has promised is faithful. Hebrews 10:23.
"Aly was diagnosed with breast cancer October 17, 2011. Aly is 24 years, 4 months, 12 days old. Aly is an incredible woman, as you will come to know. Dear cancer: you have no idea the woman you have picked. Godly, Passionate, Fierce, Persevering, Strong, Beautiful, Kind, TICKED OFF; These are a few adjectives to describe my wife- the last of which is not something that spells out a positive end for you, cancer. You lose, Aly wins. Thank you Jesus in advance."