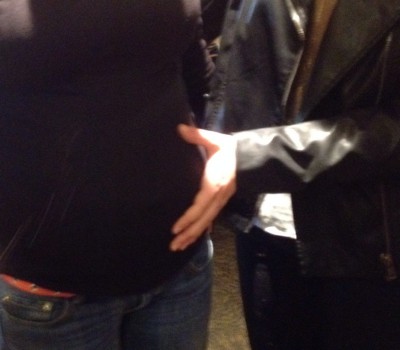 WOW
Wow, that really is all I can say about today. First off, just so you can let out a big "Ahhh" with me–it could not have gone more perfectly.
I did not sleep well last night and felt like I was going to throw up all day today. Josh was a nervous wreck. We got up early this morning and went hunting for a gift for our amazing birth mom. In a perfect world, I would have had something ordered weeks ago- maybe even something personalized. But as I am learning with adoption, things are more often last minute. God is breaking me of my control and planning:)
So, we headed out to find a gift. We ended up getting her just a few "comfort finds" and some relaxation stuff, as she is now 6 months pregnant. We finished getting her gift and literally couldn't do anything else. Literally.
We still had a few little gifts to get for Christmas. I mentioned this to Josh and he said, "I can't do anything right now." So, what do you do when you can't do anything?
You drive around the parking lot. Yep, that's what we did for 20 minutes. In complete silence, driving around the parking lot of Panera bread. We knew that our birth mom was meeting with the case's mental health counselor alone inside, and then we would join shortly thereafter.
Surreal to be driving around that parking lot, knowing that possibly our baby was inside, in another woman's body! We still just cannot wrap our heads around that.
We finally get the "go-ahead" to come in. We are greeted at the door by the mental health counselor, who is fantastic. And then we see her. We see our birth mom and her sweet aunt.
She immediately gives me a hug. I love hugs. I'm a physical touch person, and even just her hugging me tight, I was holding back tears.
The meeting was wonderful. She asked us tons of questions. We asked her tons of questions. We met for about 2 hours, but most of all we just enjoyed visiting. Getting to know one another. After all, if this baby really is our baby, which we believe it is, this woman plays a huge part in our life. How could we not glean all we could from this meeting?
She obviously is having a very hard time thinking about the adoption. I just literally cannot imagine. We cried together, hugged tightly and sympathized with her as you could see the pain in her eyes.
Through the tears and the pain, she just kept saying that she couldn't do it. She wasn't stable enough. She hadn't been able to take care of her other children (they are adopted by family members), and she knew she couldn't with this one either. She kept saying that this was the best choice. Her aunt and family are completely supportive of her decision of adoption.
We conveyed to her how much she is loved. How we admire and respect her more than anyone we know. How selfless. How amazing. What an incredible mother.
Besides that, we really liked her:) She is really funny, down to earth, and extremely loving.
When we asked her why she chose us out of the plethora of applicants, she said that the main thing was she thought we looked alike:) Isn't God so good?
Beyond that, she loved that Josh loved sports (she's a basketball player), and she loved that we worked at a Christian school.
It is very important to her for her child to be raised in a Christian home.
One of the most exciting things to me is that she wants us to be a part of the pregnancy, labor, and delivery. We should be able to come to an ultrasound or two, and she wants us in the delivery room. She will even let Josh cut the umbilical cord—Wow, wow, wow.
I mean, y'all—is this real life?
God has answered so many of my prayers so specifically.
We left the meeting in tears once again. Lots of hugs.
I will never forget her saying that she was "ecstatic" that we are the adoptive parents. She was so nervous- if not more nervous than we were about meeting today. She was scared that she was going to have to tell our attorney that she didn't want to move forward after we had flown all this way.
Let's just say it was the complete opposite.
I kept praying for a God-filled meeting. For her to know how deeply loved and cared for she is. For her to feel safe with us.
We were able to take pictures with her and I was even able to feel her belly:)
I got an email later on in the day from our attorney. All it said was, "They love you."
More updates to come. Just wanted to share how our meeting went today with our beautiful birth mom.
And, oh yeah, we met our baby for the first time, even if the baby was still in his/her birth mom's belly.
What an incredible day. What an incredible God.
3 Months From Today is the DUE DATE!
Aly