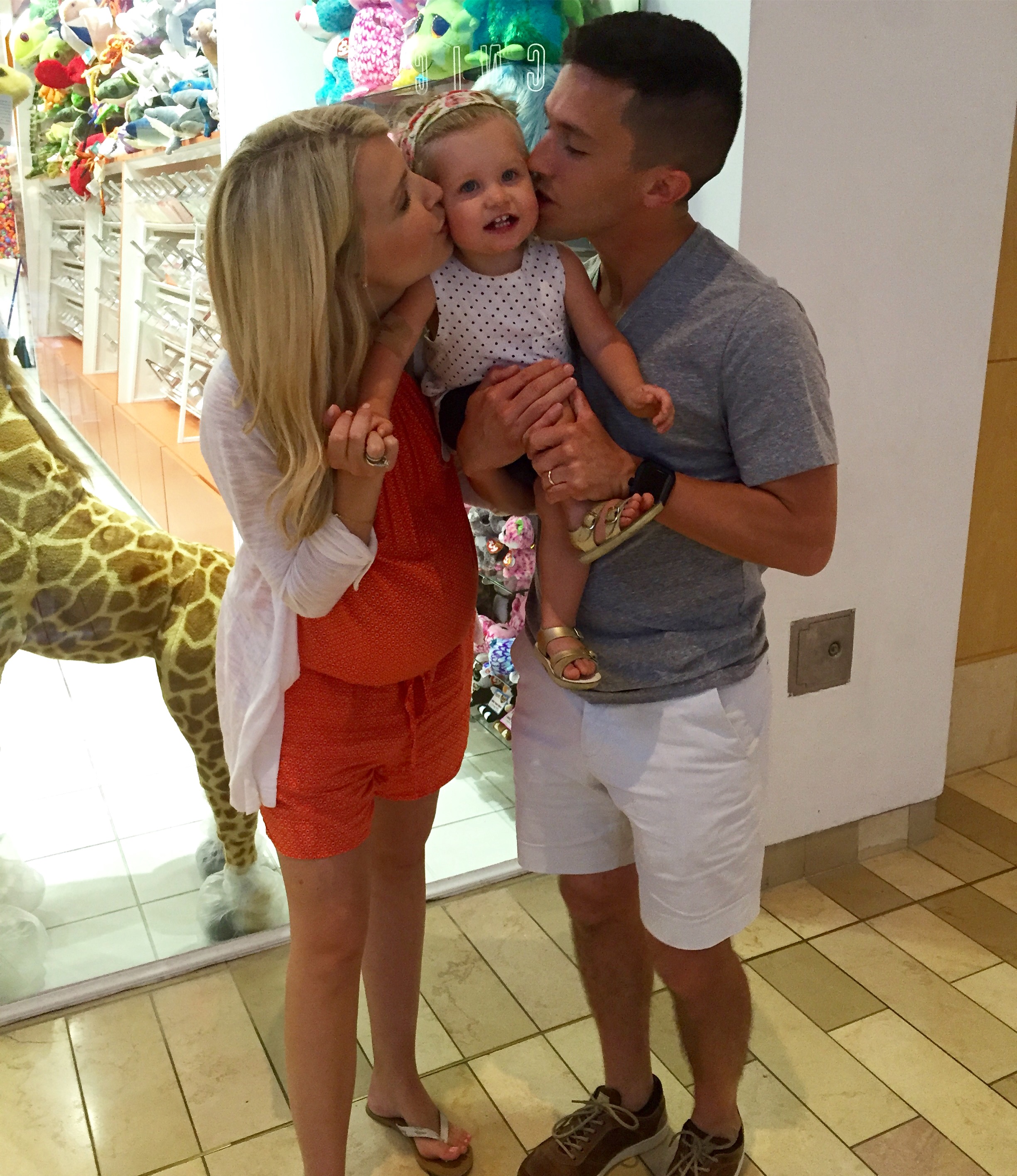 I want to walk you guys through events that have occurred in the last month or so that we have been in Kentucky waiting on our girls. Many times I have to share things after they happen for privacy purposes and wanting to make sure we protect the birth mother and our babies. So, please know while we want to share everything as it is happening, the only reason we do not is to protect our family.
But now that Vera is born and "home" with us in Kentucky, I can share lots about her and the process of bringing her into this world!
When we learned that mine and our birth mother's due dates were roughly two weeks apart, my first thought was "Where would I deliver?" Most of our friends and family members encouraged us to deliver at home in our own environment which we were comfortable, but as the idea rolled around in my mind, I could never get okay with that.
The thought of me being in labor at the same time as the birth mother, or even days apart and us missing the birth of the baby we are adopting–that felt like my heart was ripping out of my chest.
The only thought that brought us some peace was for me to deliver in the Kentucky area. Yes, people thought we were crazy (we are used to that by now), but that is where prayer and lots of thought took us.
We LOVE my doctor in Louisiana. I had always pictured her delivering my baby. She is a believer and had believed with us for this miracle, so it was heartbreaking to think of her not delivering Vera. Yet, we still had peace to go elsewhere.
I jokingly sent one of my dear friends who is training to be a midwife a message saying "I wish I could take you to Kentucky so you could help deliver this baby!" She felt the same way. But what I didn't know (but should have known, knowing her) that she started researching of places for me to deliver.
I have always been fascinated by birth, natural birth in particular, and she knew that. She immediately sent me the name of a hospital in the area we would be located that had many natural philosophies. We are not against the medical field (clearly—hello, chemo, surgeries, radiation, etc…), but I wanted to check out this place she recommended.
We came to Kentucky in June for an appointment with the birth mother, and while we were there, we scheduled a consult with a midwife and got a tour of the hospital and learned much about what they did. We loved it! The midwife was amazing, and we also loved that they incorporated natural birth, but you delivered in a hospital and doctors were there in case of any complications. It truly seemed like the best of both worlds! The ultimate goal was delivering a healthy baby, and if we could do it as naturally as possible, that is what we were hoping and praying for.
After talking with the midwife further, we learned they did not want to take me on as a patient any later than 36 weeks (understandably so), so after a 35 week check up from my Louisiana doctor okaying me to travel, we headed to a town we were completely unfamiliar with, to a doctor's office and hospital we had been to one time to have them deliver my baby. Let's just say I have had to surrender control so much in the past month and trust God completely.
The staff at the hospital had 3 midwives and I wanted to meet them all, as any could be delivering according to who was on call, as well as who I felt most comfortable with. From our first visit, I knew this was an incredible place to have pre-natal care and to deliver my baby. Everyone was so kind and caring and had many of the same thought processes that we had regarding pregnancy, labor, and delivery.
It was wonderful to be supported and encouraged in our birth plan, while knowing that the health of our baby was still number one! No, I didn't want to give birth in a barn (for all of you rolling your eyes with the natural talk), but I hoped to experience every part, both good and bad, of bringing a baby into the world. I never once wanted to "prove" anything or "be a hero" as some say, but I simply wanted to experience every part of pregnancy, labor, and delivery, in complete safety of course.
This hospital has paved the way for midwifery in the area, and people drive hours to come to it and receive care. I still tear up thinking of my sweet friend sending me information on this hospital knowing that was not a coincidence but divinely planned by the Lord to help me bring this baby into our world.
From our first visit, it seemed like I was progressing quickly with my check ups. The midwives were always quick to tell me that dilation and effacement do not necessarily predict when labor will occur, and with this being my first pregnancy, things typically move more slowly. With that said, anyone that I told how far I was progressing was just sure it would happen any day! Because of that, I was sure Vera would be a July baby.
I would feel pressure and cramping, which I wasn't sure if was contractions or not, and the whole "knowing if you are going into labor" was confusing for me! Everyone would say, "Oh, you'll know!", but it wasn't like that for me. I would find myself questioning everything.
Thank goodness for our amazing doula team! When we went in for our first visit, one of the midwives called me that afternoon to get me in touch with a doula. To be honest, I wasn't even quite sure what a doula was. I knew that one of my friends used one for her births, but I didn't quite know the ends and outs of what they did. Our midwife suggested having one since we were attempting a natural birth. She also probably recommended one because we had not taken one birthing class (and this was quite evident during our consult)!
When we went for our consult with the midwife, there were couples asking about methodologies, placenta encapsulation, and other things that Josh and I kept snickering over. I am sure we seemed completely disrespectful. Josh kept making jokes with us being the only ones laughing at them. I finally *tried* to get him to stop as it seemed all of these couples were serious about this consult, and we were just laughing away. Maybe the midwife was thinking, "This couple needs some help!" ha ha, regardless, we are SO thankful for her getting us in touch with a doula team.
We made contact with this doula team, and she wanted to do a private birth class for us. I was 37 weeks and had no clue about breathing, a written out birth plan, or many other important questions the midwives asked me about. Thank God for this team.
Tomorrow, I will share more about our birthing class and the long wait before labor actually started. The picture on this post was taken the day I started going into labor but didn't quite know it. For me, it wasn't so easy to tell!
Love,
Aly