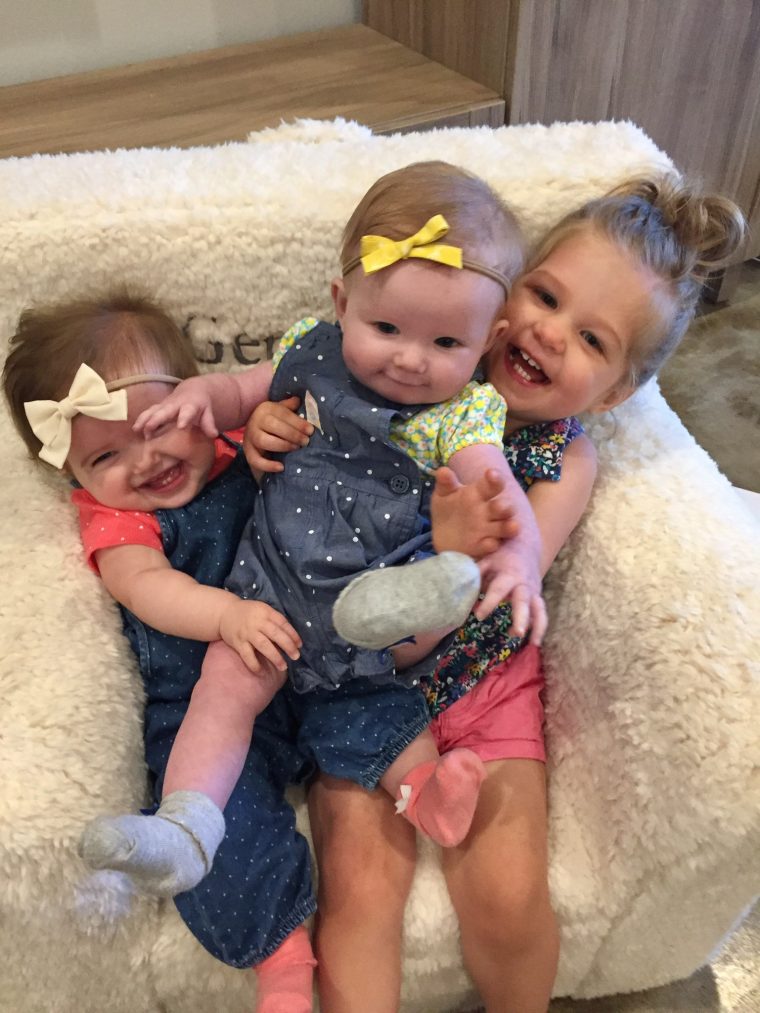 Sorry it's been so long since I have written. Genevieve had her 2nd birthday, we travelled to North Carolina to speak at a Women's Event, we travelled to my step-brother's wedding, travelled to another speaking event, and we have been busy with the three most precious girls on the planet!
But I wanted to write about something that has been on my heart and has come up often lately in some conversations.
I often times have people tell me that they cannot understand how I am so positive about my life. They see me smile and they say they wish they had the joy I have.
One of the first things I always reply to that is "It is because of Jesus."
The second thing I typically say is "There is much that isn't seen."
And the third is that "I have a joy unexplainable because I have been given an incredible perspective of life and I realize what a privilege it is to live each day."
But, that doesn't mean there aren't things I don't hate about my life.
I can always tell when people haven't read much of my story, because they are the ones that typically say that they only see the good sides of our story. If you have followed our blog for any amount of time, you have seen us talk about depression, fear anxiety, marital struggles, family struggles, job losses, etc… Those things in life that are just un-fun.
We try to not just show our happy, miraculous moments, because we want to be real.
In this life we WILL have troubles. It makes us long for heaven…oh a trouble- free life- YES, LORD!
So I just wanted to share a few things that I hate about my life, with the hopes of sharing that our joy truly comes from Jesus and not our circumstances.
I believe that is what true joy is. Having joy regardless…
It is hard for me to even write the word "hate" because I was always taught to not say that word! But there are some things that I do down right hate about my life, and I am sure you can think of a few things too.
I HATE CANCER.
I HATE IT.
I hate that I had it.
I hate that so many others suffer from this awful disease.
I hate hearing commercials about it.
I hate hearing that someone else has been diagnosed.
I hate that cancer was a part of my life.
I hate that cancer is a part of my life.
Yes, it has been ridded of me forever, but it is something that is always on my mind in someway.
I have to continue to monitor my body.
Check for symptoms.
Go to appointments.
Be extra mindful of my body.
And often times that creates fear and constantly having to pray to be continued to be delivered from bondage—it is a process.
I am healed.
It is done.
But that doesn't mean it isn't a struggle.
Sometimes I can find myself in a pity-party thinking about cancer and the effects it has had on my life, and I will hear someone else talk about their concerns and just wish they were mine!
I can just feel like life isn't fair!
When I told God I would serve Him and bring Him glory through all circumstances, I wish I would have eliminated cancer from the possibilities of things He would allow in my life…(can I get an "amen"?!)
But, I didn't.
Life isn't fair, and God cares about the things in my life that I hate.
He cares about the things that you hate.
There are people who have gone through divorce and hate every part of it.
People who hate having child who is sick and watching them suffer.
People who hate constantly struggling financially.
People who hate their jobs.
People who hate tension with friends or family members.
People who actually hate someone else.
People who hate that they have continued to do "right", yet others continue to hurt or betray them.
People who have lost a spouse.
People who have lost a parent.
People who have lost a child.
There is just isn't a word better than hate…well maybe "loathe" to describe all of the above…
Y'all, life is hard.
Many of us have hard things we have to deal with every.day.
When I get frustrated and I am in my pity-party and it seems like others just have menial problems to worry about, I realize my deep, deep need for my Savior.
And I am also reminded that I have no clue what others are struggling with even when it seems there problems are small…
I truly do not understand how people go day to day without Jesus.
My hope and peace is found only in Him.
A main thing I have struggled with in my journey is loneliness–not because people haven't been there for me, because they have in huge, huge ways!
The loneliness comes from feeling like no one can really understand some of the things we have been through, and so badly yearning for that empathy and understanding that I just don't know exists outside of Jesus and others who have gone through what we have…
Jesus understands.
He hates your pain too.
He is right beside you and me.
He sees you in those quiet, painstakingly difficult moments.
He is drying your every tear.
He hates that we live in a fallen world.
This is not how He wanted the world to be.
The only way I can make sense of the unfairness of life and the things we go through that we just hate, is that it must remind us of our need for Jesus and trusting Him that He will use this pain.
In my life, my greatest pains have given birth to my greatest joys…
The question God often poses for me is: "Will you trust me that I see the bigger picture?"
I must hang on and trust that my pain has a purpose.
And even better than that, am I willing to choose joy in the midst of the things I hate?
I trust things will get better. I trust I will eventually see God's hand in the things I hate, but the even bigger challenge is to choose joy in the middle of it all.
It is possible.
In fact, we have a better chance for joy and strength when we are in the middle of something we hate…When we feel week, weary, and worn out.
2 Corin. 12:9
"But he said to me, "My grace is sufficient for you, for my power is made perfect in weakness." Therefore I will boast all the more gladly about my weaknesses, so that Christ's power may rest on me."
Christ's power rests on me and you when we boast about our weaknesses. His grace and power is made perfect when we go through things we hate!
Wow!!!
If we could truly grasp that we have access to Jesus' power even more when we go through things we hate…
I still struggle with this, but I want to understand it more and truly boast about the things I hate, only because of Jesus.
So, I hope this shows you that there are things in my life that I hate. I struggle every day.
I know there are things in your life that you hate.
We live in a fallen world, and there will be those things.
But, we have to boast in them and choose joy in them because God's power is made perfect in us through those things we hate.
We must be willing to allow that power to come in! What if we all really did this?!? What an expression that would be of God's perfect power and strength in one's personal time of pain!
As uncomfortable as it makes me to write a post about things I hate when God has done so much in my life, I choose to write about it because I want to boast in those weaknesses knowing His strength is made perfect in that…and that when you see me smile, it isn't because my life is perfect.
It is because I serve a God who is.
A God who has used my pain for His greater purpose and is showing me how to live life abundantly in the midst of good times and bad.
Our pain isn't in vain,
Aly