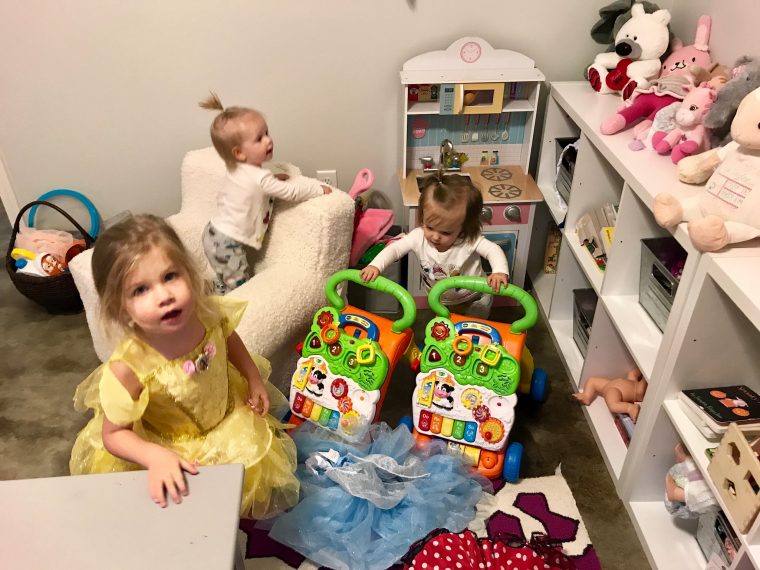 Well, I am trying to get in a better routine of at least writing one blog post per week. I am hoping if I write that- I will stick to it. Accountability please :)!
My posts will be short, but I at least want to write what's on my heart and hopefully encourage many of you.
So many people tell me that these days are hard.
And they are…they truly are!!!
Just this morning, I was laying on the hall floor while Genevieve "fixed" my hair, Lydia was literally sitting on my face and Vera was sitting on my lap slapping my stomach while laughing! It is truly non-stop over here, but here I am writing a post during nap time. This is the two hour gap I have while all are asleep (actually right now I can hear Vera and Lydia having a screaming match–not even a mean scream–just an "I scream, you scream" with laughter– I hope they go to sleep soon!)– and I try to catch up on my grading (I am a professor at Liberty University), and now I am trying to fit a blog post in there too (we'll see how this goes!).
Don't even ask about the state of my house! (ahhh)- nap time goes to grading time and my house gets neglected much of the time.
But people do talk about how hard this stage of life is. I always tell myself it is just a season.
It is just a season.
When I feel distanced from people, when I am just so incredibly exhausted, and when I feel like my house is rarely, ever clean- it is just a season. I have been blessed with the best of friends who are in this stage with me, and others who aren't in this stage, and still encourage me. Our moms that help clean for me and help as much as they can.
But this has hit me lately:
These days are actually the easy days.
Now, before you think "Oh my word, this girl is calling raising 3 kids under 3 easy… I can't stand her"—no, that is NOT what I am saying AT ALL. Believe me!!!
But this is what has been so real to me lately.
What has been so apparent to me is that when my girls are much older and I am having to pray, encourage, cry, and hold their hands through REAL trials- (outside of sitting on my face or literally pulling my hair out of my head while making "mommy's hair pretty"), I will realize that these were the easy days.
I guarantee a mom going through a gut-wrenching time with her teenager yearns for and would even beg for a messy house with happy kids.
I guarantee there are grandparents today who are worried about their adult children and their marriage that is falling apart and are yearning for the days where they were cleaning up poop in the tub (well, maybe not;)), but I bet some so would!
My point is that as hard as these days seem, I have really been struck with that phrase- "These are the easy days."
The exhausting, emotionally draining, messy, amazing, gone too fast, EASY days.
So, if you are in the trenches with me and you are just SO tired, hug your babies and put something in front of you each day to remind yourself that these are the easy days.
Pour into your kids with song, scripture, and with every little sock you fold or diaper you change, pray over their future and those hard days to come.
Scripture tells us that we will have trouble in this world—we can't pray all trouble away- it is imminent, but we can strive with all of our might by completely relying on the strength of the Lord to help us raise little warriors to fight those battles that are to come.
Take heart, HE has overcome the world!
Remember, these are the easy days. Pray for strength for these easy days and continued strength for the years to come.
And SOAK it up with me.
As I looked at my Genevieve this morning–her long legs, her talking up a storm, her crawling out of her crib and realizing we need a toddler bed (oh my word!) — it hit me once again just how quickly this is all going by.
Soak up these easy days,
Aly