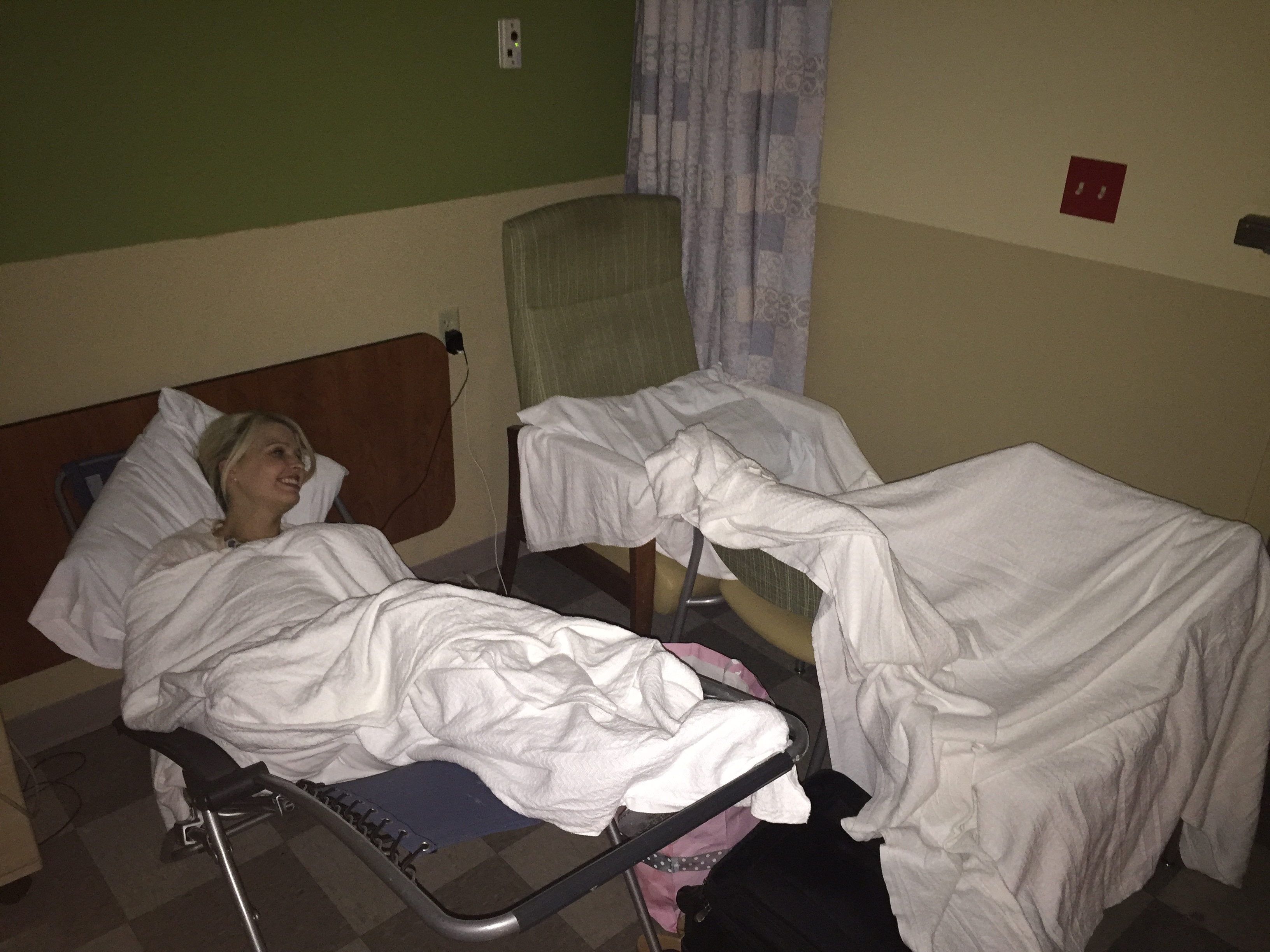 First off, let me say how thankful we are for all of you. These past 7 days have been a complete whirlwind of emotions. To know you all were praying for us, and most importantly this little girl, literally means more than the world to us. If you have kids, you know how someone praying for them and loving them means so much more than someone loving you—so just know if you love and pray for our children, we adore you, no questions asked.
I want to share with you all about these last 7 days, but I figured I would first start out with telling you all about Baby Taylor #3's birth! Just like last time, we cannot share her name or photos of her until we bring her home, but we can tell you about her and the process to her becoming a part of our family.
On Wednesday, August 24, Lydia's birth mother called us and let us know that she thought she might be in the early stages of labor. We had just taken her to an appointment the day before where she was told she was progressing quickly. We got excited with this phone call, but having just given birth myself (and false alarms at that), I was unsure if this was really it. She was contemplating going up to the hospital that night but decided not to go as she began feeling better.
I had my phone glued to my hip, knowing that at any moment we could get a call. After all, she had never gone this long with any of her previous pregnancies, so we were all surprised that August was coming to an end, and we still had no baby. Apparently these last two Taylor girls wanted to take their time getting here 🙂
We went to bed that night and around 7:45 am, my phone rang and I saw it was the birth mother. In a panic, I made Josh answer the phone as I was trying to not completely freak out. He answered the phone, and it was her on the other line crying in pain. She explained to Josh that this had to be it. She had a ride to the hospital and asked us to meet her there. We got our bags packed, said goodbye to Genevieve, Vera, and our moms and headed to the hospital. We weren't sure if this was really it, but it sure sounded like it!
We took a picture before we left as our last potential picture as a family of 4. Vera was 11 days old at this point.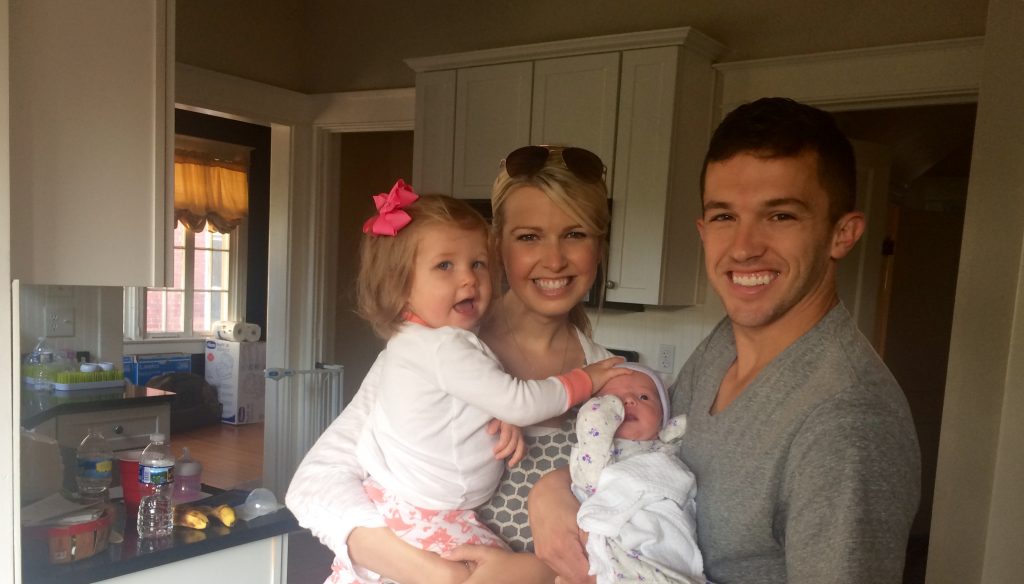 As we got to the hospital, she was in triage. We were wondering if she was really in labor because she had not been admitted to a labor and delivery room. As we walked into see her, she was in a lot of pain. I immediately started crying. I couldn't hold it back. You see, just 11 days ago I was feeling what she was. I was feeling tremendous pain, telling myself it would all be worth it.
Here she was, feeling tremendous pain, knowing it would all be worth it, and she knew it was all for this baby—not a bit about her.
I couldn't hold back the tears. She is emotional too, so we were both crying and hugging. And you all know Josh was crying:)
At this point, she was begging for an epidural. It was a little after 9:00 am, and she was in terrible pain. She was progressing really quickly, and they weren't sure if they would be able to get the epidural done in time because there were 6 other women who came into labor and delivery right before her, and they didn't know if the anesthesiologist would have time to give her the epidural- she was not happy about that, understandably so. We were all begging, hoping and praying she would get that epidural ASAP!
They came in to tell her that she would most likely be delivering in the triage room. Because of the women who had just come in before her to give birth, there were no more labor and delivery rooms available, and this was a big hospital, mind you! Apparently August 25th is a good day to have a baby!
So, we were disappointed that we were all squished in a tiny room, but we had good news- the anesthesiologist was coming to give her the epidural. Thank you Lord!
We walked into the waiting room while she got the epidural, and they told us to come back in about 30 minutes. We ended up coming back to her room around 10:30.
A birth photographer met us in the hospital and was excited to take pictures of the birth. We had photos taken with Genevieve's birth and Vera's birth, so I also really wanted to have some taken for this baby's as well. We were able to make a birth photo book for our birth mom with Genevieve, and we wanted to make one for her of this one as well. We told the photographer that we would call her to come to the room once our birth mom was ready to push.
Right after we told her that, we walked into the room while a doctor was checking on her. We heard the doctor say, "You are fully complete. Are you ready to push?" We couldn't believe it. The birth mother couldn't believe it. She was laughing at how fast this was going, and we all just could not believe it.
Our photographer had barely walked down the hall before we were texting her to rush back because our birth mother was about to push!
There were about 12 of us all squished into this teeny tiny triage room that our third baby girl was about to enter the world. I thought I was going to throw up.
I was scared. I was anxious. I was excited. I was so ready for her to get here.
In no time, the birth mother started pushing. After 1 push, you could already see the baby making her way out. And on the third push, there came Lydia!
It was impressive.
As the baby came out, the umbilical cord was around her neck, and I was crying and praying like crazy. I knew that wasn't terribly uncommon, but it was scary to see. She started crying pretty immediately, but I still was so scared initially. To hear that cry was the most beautiful sound.
I couldn't control my emotions. With Genevieve, I just remember being in shock. With Vera, my body was in literal shock after just pushing a baby out. But with this birth, I was just filled with every emotion. I am sure my postpartum hormones weren't helping either.
3 pushes and this baby was out. She did incredibly. The baby was beautiful. She was and is so perfect, and tiny! She weighed 5 pounds, 11 ounces, and was 19 ½ inches long. She was born at 10:57 am.
We were so grateful to God and the birth mother for these first moments with this new baby. She always says that we are family to her, and we feel the same way. To be able to witness this birth with her, support her, and love her through bringing life into the world is something that is hard for Josh and me to adequately put into words.
The baby's temperature was a little low (her other two sisters did this too), so she had to stay under the warmer a little while. But after she warmed back up, we all took tons of pictures together. We hugged, we laughed, we cried, and we prayed together—it was a very special moment to be there when she entered the world and to just spend time with many members of our girls' birth family.
I always try to catalog these moments in my brain and write down things so that I can answer any questions for my girls as they get older.
We all finally moved to a regular room and hung out in it the rest of the day. We took turns holding the baby, feeding the baby, having skin to skin time, and just enjoying one another's company. More than ever, it truly felt so comfortable to be with each other. Last time when Genevieve was born, we were still getting to know one another. This time, we are dear friends. We feel like family, instead of just being family having had Genevieve through adoption.
We treasured these moments in the hospital room with the the girls' birth family.
We were unable to have a room of our own like we had last time when we were in Florida, but it ended up being such a blessing because it forced us to just be in the room with the birth mother. What incredible moments!
It was nearing 11 o' clock pm, and the birth mother was really suggesting Josh and I get some rest. We were really hoping to not have to leave the hospital. We could not fathom leaving this little girl! We had previously discussed sleeping in the waiting room if we were unable to have a private room. After all, there were 7 births that day, so you can imagine how full the postpartum floor was! But God—-he always gives us favor. He is so GOOD!
A few nurses were able to offer us a room, but the caveat was that we could not sleep on the bed or use the bathroom in case someone needed a room quickly. So, what did we do? We started in chairs, but then moved to the floor.
Yes, you read that right, we slept on the floor, tile floor!!! I think my body is still recovering from the tile floor!!! As much as we were hurting, the tile floor wasn't stopping us from leaving, and we were so grateful to not be sleeping in a waiting room. The pics below were from before we moved to the floor:)
We could not wait for the morning to come so we could see that sweet little girl again. We never imagined that the next day could be our last time seeing her.
Will share more tomorrow,
Aly