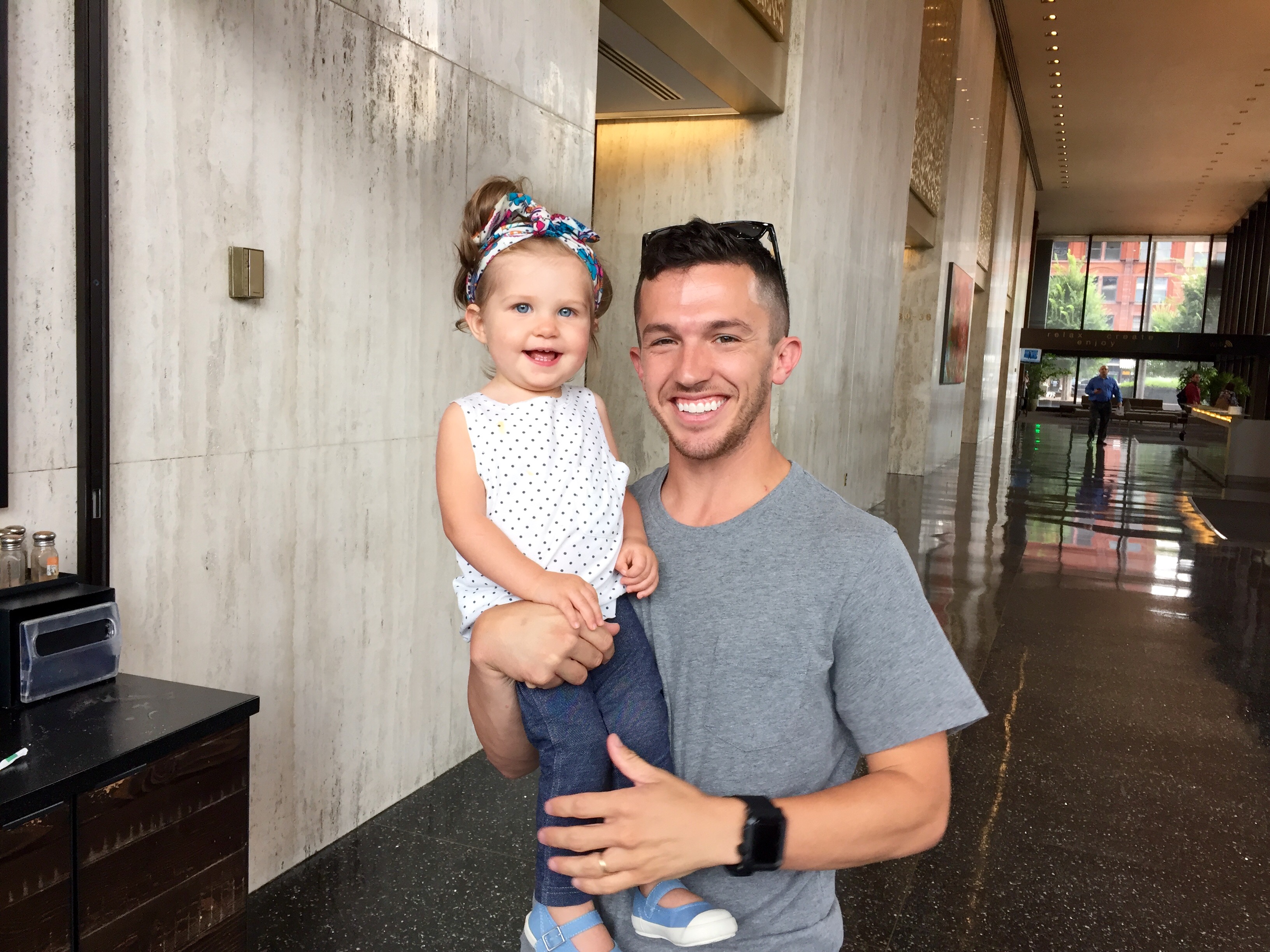 We are still settling in here in Kentucky and truly enjoying our time here. When we were in Florida waiting for Genevieve, let's just say things looked ALOT different.
It's hard to even compare the waiting, even though it was just over a year ago that we were doing much of the same.
For one, I wasn't pregnant. There is a water park here and I wanted to go and then I remembered, "I'm pregnant!" I guess that's off the table…
When we were in Florida, we did lots of different activities waiting for Genevieve that being pregnant doesn't necessarily allow. And that is not a complaint one bit, but sharing a difference:)
We also did not have a 1 year old. We are very scheduled with Genevieve and big believers in naps making happy babies, so our schedule definitely revolves around her naps. And we are all happier for it:)
We also were somewhat naive to the fact of how difficult it would be for us to go through the adoption process and the struggle it would be for our birth mother. Although we believe it will be easier for her this time, we also remember how traumatic it was last time, which can cause fear to rise up that we did not have at this point in the waiting process last year. We were just excited at this point last year, not fully realizing the pain that comes with adoption as well.
One of my favorite quotes is, "Don't dig up in doubt what you planted in faith."
Often times, we can start out with a huge amount of faith, then as we see things play out, we start to doubt and that "foolish faith" we started out with quickly becomes diluted with doubt.
We do this with a diet, with a plan, our quiet times with God, our relationships, really everything!
I see it all the time as a family therapist. Clients come in motivated to change and speak to me at length about how now is the time to change—how they feel God leading them to make real changes. How now is the start of changing forever! If someone was an onlooker in my therapy office, they would say, "Wow that person is going to make some real headway!"
Unfortunately, what happens majority of the time?
It fizzles off. They have a setback and never get back to the previous level of faith. They lose their motivation and the type of change that they once so believed was possible just simply isn't anymore. Not because it really isn't possible, but they have allowed the doubt to overshadow the faith they began with.
That.is.TRAGIC.
I have seen it over and over again with others, and it is something that I continue to battle myself.
Throughout this entire journey of cancer, infertility, and adoption, we have been unashamedly vulnerable with you guys.
We were just in conversation with some friends here in Kentucky and they specifically asked us how we managed to be so vulnerable with others through our blog, book, and speaking opportunities. So often, people are amazed that we share so much with the world.
Often times, I am too. As you guys know, I am a private person by nature, so the fact that God has changed my private nature, made me realize that being private is selfish, and constantly sharing what is going on with us- the good, the bad and the ugly–has helped so many people, so we just continue to do it!
Lately, we have been faced with much that might cause us to dig up what we planted in faith and replace that faith with fear and doubt.
We simply will not let that happen.
When we found out we were pregnant, we were flooded with a HUGE amount of faith. I mean, HELLO! We were told it was impossible. Our faith was at an extremely high level when we got this miraculous news.
A month later after I found out I was pregnant, we learned that our birth mother from our first adoption was pregnant again and asked if we would adopt this baby. After prayer and consideration, we said YES (didn't take long)!!! God knew the desire of our hearts to adopt again, and our faith level was HUGE! Gosh, how could God bless us this much? At one time we were unsure I would live, we did not know if we would ever have a family, and now we were having 3 children. It felt like our faith was being rewarded!
Well, here comes the super vulnerable part, because there have been many pieces lately that have not been "feel good" and quite honestly could leave us filled with fear and doubt if we let it.
As I have been sharing, there are so many unknowns right now.
Of when I will go into labor.
Of when our birth mom will go into labor.
Of how the adoption will play out.
Of where we will stay with the babies while in Kentucky.
Of how I can be a good mom of 3 children.
Of how I can continue to manage my time wisely with "twins" and keep God first in the craziness.
One big unknown that we haven't shared yet is Josh's job situation.
Josh was let go from his job as of June 30th. We have taken a few weeks to process and to share because we do not want a pity party.
Of course it is devastating to lose a job at any time in life, but when looking at the situation from afar it seems really sucky—to lose a job a month before you have two new babies.
In November, I made the decision to leave my part time job to take on other jobs I could do from home. Although I wasn't a huge contributor to our family's income, I knew it would be a sacrifice.
I know beyond a shadow of a doubt that is what God was telling me to do. I wanted to do as much as I could from home so I could stay home with Genevieve, then a month later, I learned I was pregnant and then soon after learned we would be having a third baby- it totally seemed like confirmation! I didn't know how I could maintain that job with my other jobs from home and taking care of 3 babies.
When we found out we were going to adopt again, we put our house on the market. We thought that selling our house could give us a chunk of money to put toward the adoption. When it didn't sell, we felt God leading us to take it off the market, and trust he would provide the finances.
This left us feeling much better knowing we wouldn't be moving to an apartment and could stay in our house and neighborhood. We knew we could make it financially. It would just be tight for a while. We decided we would put it back up for sale in the future when things were a bit more stable and the babies were home.
Then, this happens with Josh's job, and the questioning begins:
Should I have left my job?
Should we be adopting?
Can we seriously take care of three children?
Were we stupid to take our home off the market?
How will we know what job is God's will for Josh?
Do you see what just happened?
All of those things we SO believed in faith a few months ago could possibly get thrown out the window, and if we are not careful, they can be replaced with doubt.
THIS IS NOT OKAY! And we are not letting our minds go there.
But here is where we are currently:
Yes, we are scared. We are human.
If we didn't have those thoughts or worries, that would be completely weird.
You can have faith and still wonder. Even when you doubt in your head doesn't mean you doubt in your heart.
We will continue walking in faith.
We will not let our circumstances to determine our level of faith or to threaten what we knew to be true months ago. Losing a job is NOTHING.
Now, don't hear me wrong. Of course we need jobs to survive and take care of a family, but in the scheme of things, it really isn't a problem.
As I shared in one of my previous posts: we are healthy, we are saved, we are forgiven, and we are continuing to focus on God and His plan for our life. Losing a job is heartbreaking and scary, but when you have perspective like we do, you know that it is small in the big picture.
So, for a post that was extremely hard for me to write (and my husband to approve) and one we debated over even sharing, we pray our vulnerability will once again encourage you.
Believe me, we don't want to share with the world that Josh lost his job! We simply want to be real.
To see Josh humble himself enough to allow me to share this amazes me. But, we felt more phony to not share it when we have been so vulnerable about everything else in our lives.
So, here we are, trusting God has gone before us. We are taking this time in Kentucky to pray about Josh's future employment and that He does exactly what God would have him do.
Josh is a powerhouse and a workhorse. I am not a wife that worries if he finds something to do. I am not worried he will be lazy, and we won't have an income. We have no doubt he will find something else to do.
We are more concerned about him taking a job that is God's will and not just jumping on the first thing that comes his way. And that can be easy to do and pressure-filled when you are having two new babies coming into our family in the coming days/weeks.
We know you will be faithful in joining us in prayer.
Even though from a worldly perspective, it seems like the timing of all of this couldn't be worse, we have seen God do too many things in our life to not trust that His timing is perfect.
What circumstance are you currently allowing to dampen or dilute your faith?
Were you at one point extremely passionate and faithful about something in your life, and because of circumstances you allowed that faith to be dug up and replaced with doubt?
Please join us and do not let this happen!
Let's be a force together! From two people who are battling with this daily, currently, join us! We know that God is holding us in His hands, and we can trust Him.
You can too.
I fully believe that we will be able to share very soon how God has led us to something that is amazing. Just pray that we follow God's leading and continue to trust the God who has NEVER let us down.
Not letting our circumstances dampen our faith,
Aly