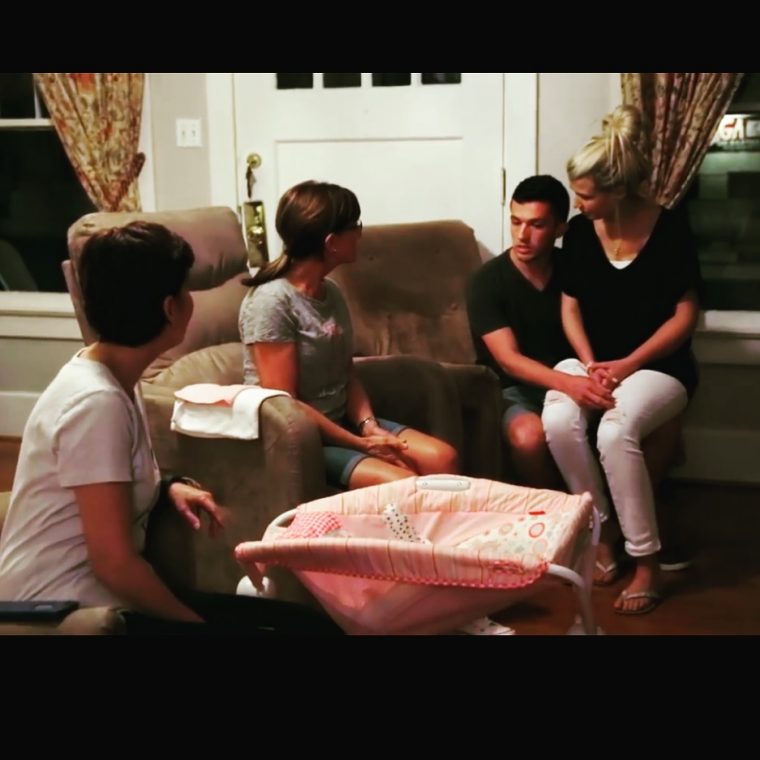 Hi guys!
I am sorry I am late re-capping this episode, but here it goes.
This was the hardest episode to watch by far, as we were told we would not be adopting Lydia.
Here are some questions we have gotten about this episode, which also lets you know what all went on in this episode!
What was it like watching the birth mom give birth to Lydia?
Oh my word! Insanely amazing. I could watch it over and over. Watching the birth mom give birth to Genevieve was amazing. I had never seen the birth of a baby before I saw Genevieve be born, so there were two amazing things to witness- our daughter be born, and to experience the miracle of birth! This time, with Lydia, there was even another factor, being that I had just given birth 11 days before. I was so super emotional. I cried with the birth mom as she was in pain, and I was so happy when she got her epidural! I could literally feel her contractions! We laughed about this.
Seeing an incredible woman, who is family to us, give birth to your child—all of the emotions involved–I cannot even describe. I think that is just why I cried and cried. I cried through the birth mom's labor and then cried as I saw Lydia be born. I just couldn't stop. To be able to see your child enter the world through another woman's body, who so selflessly wants to give this baby to us—wow, watching it all is just too much to comprehend.
Did you truly think there would be no problems with Lydia's adoption?
I wasn't naive enough to think that it wouldn't be extremely difficult for her to make this decision again. But here's the thing. We have a great relationship with the birth mother, and we talked about this several times. We discussed how this would be extremely difficult again, and the birth mother openly discussed with us that it would be much easier this go-around because she knows us so much better and trusts us implicitly. So yes, we knew it would be hard, but because of all of the conversations we had with her, we could not imagine that we would be heading home without Lydia.
Was it hard to leave Vera and Genevieve while you were with Lydia?
OH MY WORD, YES!!! I was a wreck!!!!!! The good part was that our moms were soaking in every bit of this. They both kept saying what a treasure it was to spend so much time with Vera when she was that little and watching Genevieve in her new big sister role. We just had to stay focused that this was just a few days where I needed to be with Lydia. Thankfully, I had gotten in 11 wonderful days with just my Vera and Genevieve before I had to go and be with our Lydia.
How did you find out you wouldn't be adopting Lydia?
We were in a private room by ourselves when we heard in passing that our birth mom had changed her mind. We were floored or thought there was a misunderstanding. We then went and talked with the birth mom to see if this was really  true, and that is when she confirmed it was and wanted to try and keep Lydia.
How hard was it to have cameras film you in these moments?
Oh my gracious! It was SOOOO hard. After we found out that we wouldn't be adopting Lydia, we contemplated even calling the producers. We told them from the beginning that we believed the adoption would go smoothly , and we really didn't want this to be a big piece of the show—this is not how we envisioned this going— but, we finally decided to let them know, and realized that we wanted to share this piece of our life with viewers so they could see the scary parts of adoption, too. We of course kept things as private as we could while still giving the general information. But, having cameras follow us and ask hard questions when I just wanted to curl in my bed and cry was just awful.
Was it real of them filming telling your moms about Lydia?
YES! So many people ask this…"was it real when…" Yes, everything has been real. We told our moms over the phone that things had turned, but we told them the details when we got home and it was documented by the cameras.
What was the hardest part about telling your parents?
For me, it is the element of having to deliver bad news. It feels like we have delivered tons of bad news over the last 5 years, and I had envisioned bringing our Lydia home or having them come up to the hospital to meet her with our Genevieve and our Vera, and now to be walking into the Kentucky home to have to give them this news—-wow, I was DREADING it. But to just see them disappointed was awful and the anticipation of having to tell them was just terrible. I didn't think logistics at the time—that we all came up there for her, etc… I just knew their hearts would be hurting most of all.
Was there anything that you said that you wished would have been shown?
YES! In every episode, we always wish more would have been shown. You would have been given much more context. My mom cried after watching this episode. It shows her talking about how she hurt for us. She explained that your first reaction is to lash out and be angry, but then when you put yourself in the birth mother's shoes, you are filled with compassion. Well, just the first part of what she said made it on the show— the part of how at first you feel angry, so she was devastated that the rest of what she said did not make it on TV. And we talked more about how we have compassion for the birth mother in the midst of the confusion, fears, and anger…we definitely wish more would have been shown about the pain we knew she was feeling.
Thank you all for watching this episode and crying along with us. I never, ever want to re-live that again!
What an incredible journey we have been on. God has been faithful through all of the ups and downs!
Blessings,
Aly