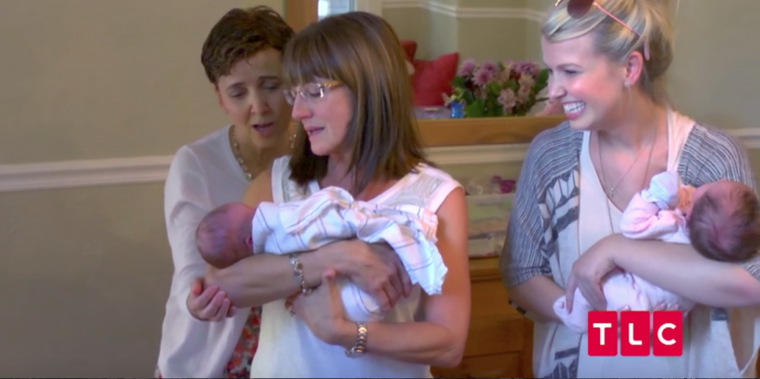 Wow- this episode! I am so thankful that this episode has aired! Everything in this episode was aired just as it was. There was no re-creating and our parents reactions were 100% genuine once we surprised them with Lydia.
I will answer some questions below that will also help with giving the re-cap of the episode.
1.) Did you have a conversation of leaving Kentucky after you learned Lydia wouldn't be yours because of the entire reason of y'all being there was to have her?
Yes, we did. Once we processed through the million emotions, we then had to discuss what to do from here. After praying, thinking, and talking, the place we landed at with the most peace was that we would stay in Kentucky until Lydia was discharged. We felt like we needed to stay follow through with our complete commitment to her until we knew she was discharged.
2.) How were you able to go see her the day she was discharged. Weren't you guys no longer tied to her legally?
That is correct. Once the birth mother decided to try and parent, Lydia was no longer in our custody. Thankfully, the birth mother along with the other authorities involved were going to let us see her one last time. They knew the commitment and journey we had been on with her, and they were so kind to let us go up to the hospital to see her one last time.
3.) What was it like going up to the hospital?
First off, the drive was terrible. You saw some of that documented on Rattled. I just kept praying for God to heal our hearts, and above all, we were praying for His perfect will. I didn't know what to say to Josh, and he didn't know what to say to me. It felt crazy going to the hospital one more time when we had to say goodbye to her once, but it truly is what we felt at peace to do, and it was so kind they were allowing us to do this. We assumed we would be leaving to head home to Louisiana the next day. We were devastated on this drive, but we had a supernatural peace about Lydia's future, and trusting her future to God, even if that meant she wasn't with us.
As we walked in the hospital, there are so many details we aren't sharing because we want to keep many parts of this story private, but there were so many crazy God things that happened. But to have just been at that hospital days before where everyone was deferring to me as her mother, and now requesting to see Lydia and people not knowing who I was–and people acting like I was a stranger to her…that was so hard. She was my daughter just days ago, and to now be just a visitor… I had to give all of those emotions to God even though I was a basketcase.
4.) How did things change so suddenly?
I don't fully know the answer to that. What I do know is that as we were telling her goodbye, I received a text message from the birth mom. She alluded to the fact that she wanted the baby to be ours. I wasn't sure if she was serious at this time, but the doctors, attorneys, and everyone else on this case kept telling us to hold tight because things may be changing. We couldn't believe it. The birth mom apologized over and over that we had been through this, but she knew once her emotions had calmed a bit that the best thing for Lydia was to come to us as she wasn't in a good place to try and parent her. It really happened that quickly, but we were at the hospital for close to 5 hours because all of the paperwork had to be changed—everything had to be re-worked because when we walked in, people didn't know who we were. And, then we walked out as the parents of Lydia Taylor. Wow, wow, wow.
5.) What was it like walking in and surprising your parents?
It was AMAZING! As you have heard us say, throughout these last 5 years, telling them bad news after bad news has been just awful, so to walk in with this miracle—there are no words to describe that! We didn't have a carseat, clothes, diapers, etc…they were all at our home in Kentucky, so thankfully Genevieve's car seat went down to Lydia's weight, and we knew if we could just get home, we would have all we needed where our family was.
They and we didn't even think it was a possibility to come home with Lydia that day. I think we thought if something were to change that it may be a few days down the road or more conversation and paperwork needed to be had. We didn't in a million years expect to be walking in with her that day. I knew our parents would have so many questions…"how did this happen??what??? Is this for real??? how much longer do we wait? how did this happen???"
Still completely floored that this angel is ours. We are so unworthy and undeserving of God placing her in our care, but wow, are we so thankful.
6.) What is your relationship like with the birth mother?
We have a wonderful relationship. She is an incredible woman that has chosen life in times where circumstances would say otherwise. She is selfless enough to want the best for our girls. We aren't the solve to that, but we will provide them with all that we can and introduce them to a God who loves them more than we do, which is hard to even comprehend. The birth mom and her family is family to us. Having a semi-open adoption has been such a beautiful, complicated journey to us, but we love that we know our girls' birth family. What an honor and privilege as many people do not know that. She is an amazing woman, and we have never had any coarse words spoken between us- just love and respect.
Thank you all for watching this special episode and one of my favorite life moments. We weren't on episode 6, as you saw, but we are on the rest of the season's episodes. Can't wait for you all to continue with us on the rest of our journey.
Love you guys!
Aly