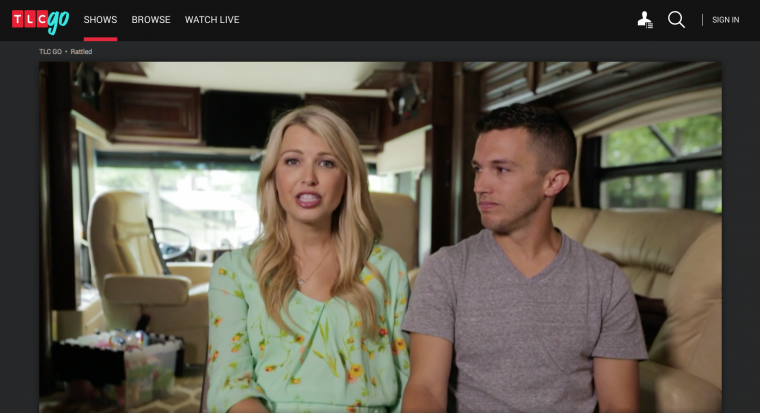 Wow, we can't believe it actually happened. Part of our story actually aired on national television! WHHHHAAATTTT?
All day on Tuesday, I was super emotional. I think it was just starting to hit me of where we were 5 years ago. If someone would have told me that our story would have been used in this way, I am not sure I would have believed them. It would have made the journey to get here so much easier!
But because we didn't see what was coming, we had to access a faith and perseverance (Holy Spirit) inside of us that we might have never had to activate had we not seen a big piece of why we went through what we did.
We posted a LIVE Facebook video on Wednesday night sharing some inside scoop about the first episode of Rattled, but I also wanted to write a blog post to share a little on here if you're not a Facebook fan, or prefer to read rather than watch a video.
I will answer a few questions below:
1.) How did we feel about the show?
Overall, we felt super good about it, but it was still surreal to see ourselves on TV. Josh was super nervous at the beginning, and I was kind of numb-feeling. I am always re-hit with my private nature when I approach something where my story is shared at big levels– I know it is what we are called to do, but my flesh rises up and feels so awkward and scared putting myself out there. So, yes we thought it was wonderful, and we are overjoyed that so many people tuned in, but it was definitely weird to know thousands of people were watching us!
2.) What was your favorite part of the episode?
To me, it was featuring my cancer story and Genevieve's adoption story. I had no idea that they would feature that to the length they did. I really felt like for the short time given, they covered a lot of ground, especially with the video and pictures to place people where we were in some of the most devastating and joyous times of our lives. When we took those videos and pictures, we took them simply for us to look back on, and to know that God had a bigger plan for all of those pictures and videos amazes us.
3.) What did Genevieve think watching it?
She watched it with me the next morning on the TLCgo app, and she loved it! She kept saying, "Why mommy crying? Why daddy crying?" And then she would point herself out! Of course, she has no clue what she is actually watching, but loved it. We will see her reaction next week when she watches me give birth! She has such a compassionate heart, and when she sees someone else hurting (especially people she loves), she gets super upset, so hopefully she doesn't get too scared watching my labor and delivery process.
4.) Was there anything you wish you wouldn't have said or done in this first episode?
Not necessarily. Of course, I wish I would have clarified certain things or there would have been given more time to certain things—but we understand that TLC has to make time for each couple! The editors are striving to take the best pieces of what we say and help the viewers understand what is happening. If they used all of our stuff, it simply wouldn't fit—so where we might have hoped they did something different, we truly believe they did the best with the parameters they have.
We fully realize that as the show continues to air, there most likely will be moments that we did or said something that I wish we could take back. This show documented the most intense/amazing moments of our life, and of course we are nervous about how all of that plays out, but we will just have to see.
5.) Are you getting bombarded by tons of people?
I wouldn't say bombarded, but yes, there are lots of people reaching out! We have been overwhelmed with the support, love, and prayers from so many. And there have already been cancer fighters, those going through infertilty and those wanting to start the adoption process reach out to me.
Knowing that people are being touched and given hope–the fulfillment that gives us for doing this, we cannot explain. How could we keep this story to ourselves?
5.) What is next week's episode?
Well, we have not seen it yet, but we do know I give birth in the second episode, and let me tell you, it is INTENSE. Outside of 2 other episodes, this episode I am looking forward to the most. I have yet to see any video from my labor and delivery, so I am just so excited to see. I am also a little scared, because it was so drama filled, and the most painful thing I have ever done, so I hope I am not the mean woman giving labor. I did ask Josh to stop reading scripture at some point because it was aggravating me…:/ Not my best moment. Forgive me, Lord! lol…
Thank you all again for watching and encouraging others to watch. I just am in continual awe of the Lord and Him seeing the big picture in EVERY area of my life.
You might not have a TV show coming out in the next 5 years, but whatever trial you are facing right now, God is using that as a set up. And not a set up to destroy you, but a set up to make you prosper. I think often times, the Lord is saying,
"Will you continue to trust me? Will you trust that I work all things together for your good? Will you praise me even now in the muck knowing I see the bigger picture?"
We were told some wonderful encouragement the other day, along with the reality of needing to be on guard. When people start sharing about God on this level, they can be put on Satan's most wanted list. He does not like us on this show, that is for sure.
So, we beg for your prayers for our family.
We are believing we are in complete protection, and will continue to depend on the Lord as our shield throughout this journey, as we continue to put our hope and trust in Him, and realize this entire story is His.
Thank you, thank you, thank you for watching with us and being on this crazy, amazing part of our journey.
Love you!
Aly
PS – If you are not receiving these updates in your email inbox and would like to simply click Here to join the Aly's Fight Team!