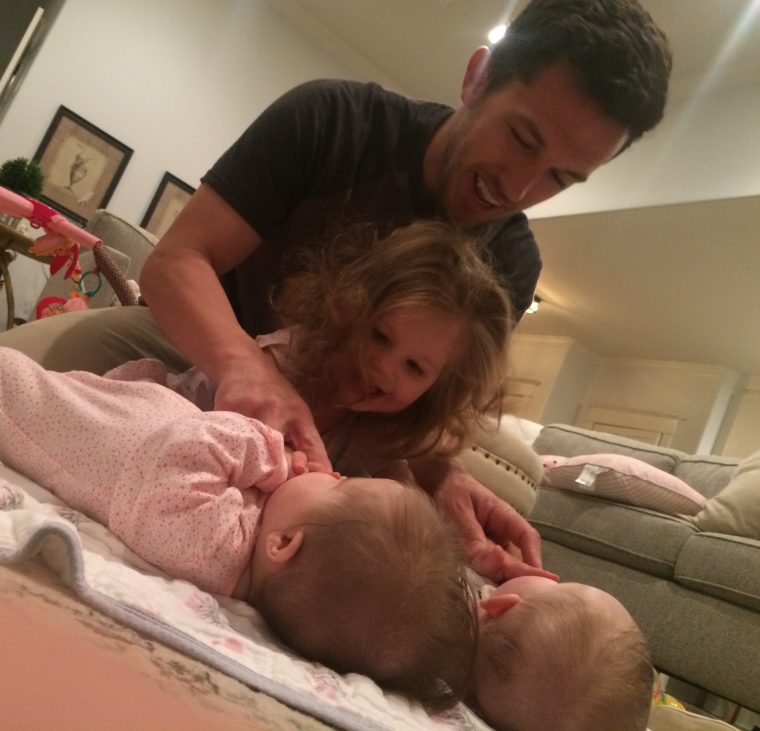 When you feel overwhelming pressure in life, finding the eject button from this kind of pressure feels like the thing to do. If you're anything like me, you are thinking "Right now- I want this pressure to be relieved!"
It seems like Aly and I continue to be under great pressure. Obviously the big things like cancer, infertility, adoption, a miracle pregnancy, moves, job loss—all of these things cause pressure. And we are still under pressure–just with life.
One of my greatest fears at this point in life is to miss out on what God has planned.
Most of the missing out on what God has planned for us happens on account of our inability to wait.
It was almost 12 months ago that we found out I would lose my job shortly before we had Vera and Lydia. With two kids on the way, we were devastated and scared. We had a series of decisions to make.
What would we do? How would we do it? When?
Over the course of the last 5 years, one thing has been absolutely emblazoned on our hearts: Our mission is to make God known. To make disciples of Jesus Christ. Nothing more and nothing less.
We have continued to feel pressed to tell our story and trust that God will step in and use it from there. Aly and I are convinced that when people get an accurate picture of God's immense love for them— that it will be a life altering experience.
In turn, we committed to blogging, writing, speaking and living in a way that gave us the ability to love God and love people really hard.
That was our stake in the ground. That was the hill we were going to die on.
We are committed to:
Be in a daily relationship with a loving God that is out for our good.
Cultivate a marriage that we were convinced was possible.
Pray for and love our children in a way that leads them straight to God.
Love the people we come in contact with at abnormal levels.
So now I explain the title of this post, "Pressure vs. Polish."
Pressure is what changes coal to diamonds. But it is not until it is polished that we can see the beauty.
I have a totally different take on this whole parallel we use to describe how this relates to our relationship with God.
I agreed to the pressure when I said "Make my heart like yours God."
I agreed to the pressure when I said "I want to love Aly like the Bible says I can."
I agreed to the pressure when I said "I wanted to be entrusted with the hearts of our future children."
I agreed to the pressure when I said "People with an inaccurate picture of God's love mattered."
I DIDN'T agree to the pressure because at some point a polish was coming.
I agreed to the pressure because I wanted my life to matter and who I was before I encountered God's love was not someone I wanted to be.
Here is where people bail out if they are expecting the "polish moment" to be one where we as humans are made known.
God doesn't plan on Josh being shown off.
God's one and only plan is for His name to be made known.
For men, women, children to encounter his love. Period.
So if you find yourself in a season of pressure, just remember why you're breathing.
You have a heart pumping blood through your body so you can stay alive.
You are alive to have relationship with the Father, Holy Spirit and Son.
You are alive to make disciples.
If you bought in to the idea of loving God for a moment where the world sees that you are polished, then please stop right now.
The polish moment you have been waiting on isn't you being seen beautiful, but for the people in your life to see a version of God and his love for them.
Pressure comes in a great deal of forms. Many and most aren't pretty.
Hurt.
Financial struggle.
Confusion.
Sacrifice.
Loss.
The pressure of life should drive us to see our desperate need for God.
In the pressure, our hearts are transformed, if we allow God to polish us.
A transformed heart loves in a way that blows the world away.
God is the polished diamond you have been waiting on.
If you have given your heart to God, you signed up for the pressure and transformation that comes from having a relationship with Him.
Don't bail out on the pressure when the God-kind of polish is coming.
My desire is for people to see Jesus when they see Josh. Not how Josh is this or that, or that even Jesus makes me look good.
I think that is where we can miss the point. I don't want to look good.
I don't want to be polished to be a better version of Josh.
I just want to be polished to the point of looking like Jesus.
Am I willing to have the pressure?
Are you?
You can't have the polish without the pressure.
When God is seen in me and in you, that is is true polish- not that Josh is seen.
Something I am currently wrestling with and surrendering to.
And here is an even deeper truth.
You're never completely polished. You are in a way because Jesus has cleansed you, but you are being transformed over, and over and over.
Because I want that continual transformation, I hope that pressure never lets off.
Pressured, and pressured, and pressured and pressured.
Polished, and polished, and polished, and polished.
If we strive for a problem-free life and a life free of that pressure, we will only be exhausted and frustrated, because it won't happen. We live in a fallen world and a life with trouble.
But take heart, God has overcome the world!
Continually being pressured and polished,
Josh