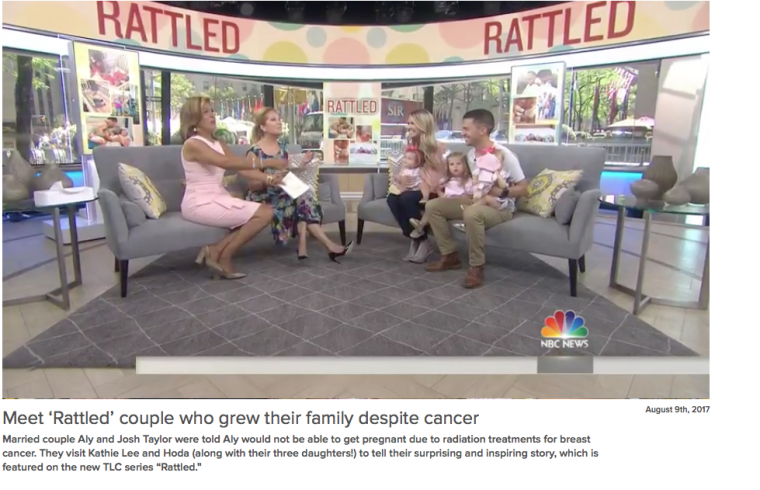 Being on the Today Show with Kathie-Lee and Hoda was simply amazing. From beginning to end, the experience was surreal. I had a minor issue when I opened my suitcase the night before the Today show and my concealer make up had exploded in my bag all over my pants I had brought for the today show. Luckily, there was a banana republic next door to our hotel and our moms and Josh happened to find the exact pants in my size- thank you Lord!
That morning, I got there early and had my hair and makeup done-such a fun experience, and I got ready next to all of the other people that were on the show that morning. Our moms and Josh got the girls ready and joined me soon after getting my hair done. Everyone there was so accommodating and nice. They told us a little of what to expect, but ultimately the questions came from Hoda and Kathie-Lee. The questions they asked were nothing of what they told us, but better! But thankfully, we answered okay and didn't just cry the whole time. When one of the producers was reading me the potential questions, I already started tearing up, and I knew it would not be good to bawl on the Today Show!!!
Overall, we answered the questions as best we could in that moment. But, you can always answer something better in hindsight. I wanted to share what I wished I would have said now being able to really think about the questions that were asked of me.
Hoda: What did that moment feel like for you (when I found out I was pregnant)?
It felt so unreal. I was excited, but scared. When you're told that pregnancy is impossible, and then you're looking at something that says you're pregnant, I didn't know what to feel. But I was overcome with emotion. Man told us this was impossible, but with God everything is impossible. And I was seeing it come to pass. We had prayed and believed God would do this, but to see Him actually do it- there are no words to describe that. He healed me of cancer, and now allowed me to get pregnant. I was just so overwhelmed.
Hoda: What do you attribute all of this goodness to?
We attribute every bit of it to our Lord and Savior, Jesus Christ. He has continued to show His goodness through our story. We have had so many devastating things in our life over the last 5 1/2 years, and we are examples that miracles still happen. We want to remember that in times of darkness that God has a plan, and we must hold on long enough to see the fruit of our laboring and suffering. He is so good and we have seen his goodness come out of the worst of circumstances.
Kathie- Lee: You're feeling well, Honey?
Yes, I am. I of course have my bad days with exhaustion and side effects of treatment, but I am healed and whole and getting to enjoy life and the things we begged God for. I have realized what a gift every day is, and I am determined to enjoy every day and every breath, when at one time, my life was so threatened. Every day, even "bad days" are good days.
Here is the link to our interview on the Today Show.
https://www.today.com/video/meet-rattled-couple-who-grew-their-family-despite-cancer-1020799555940
So blessed and honored to have had this experience,
Aly