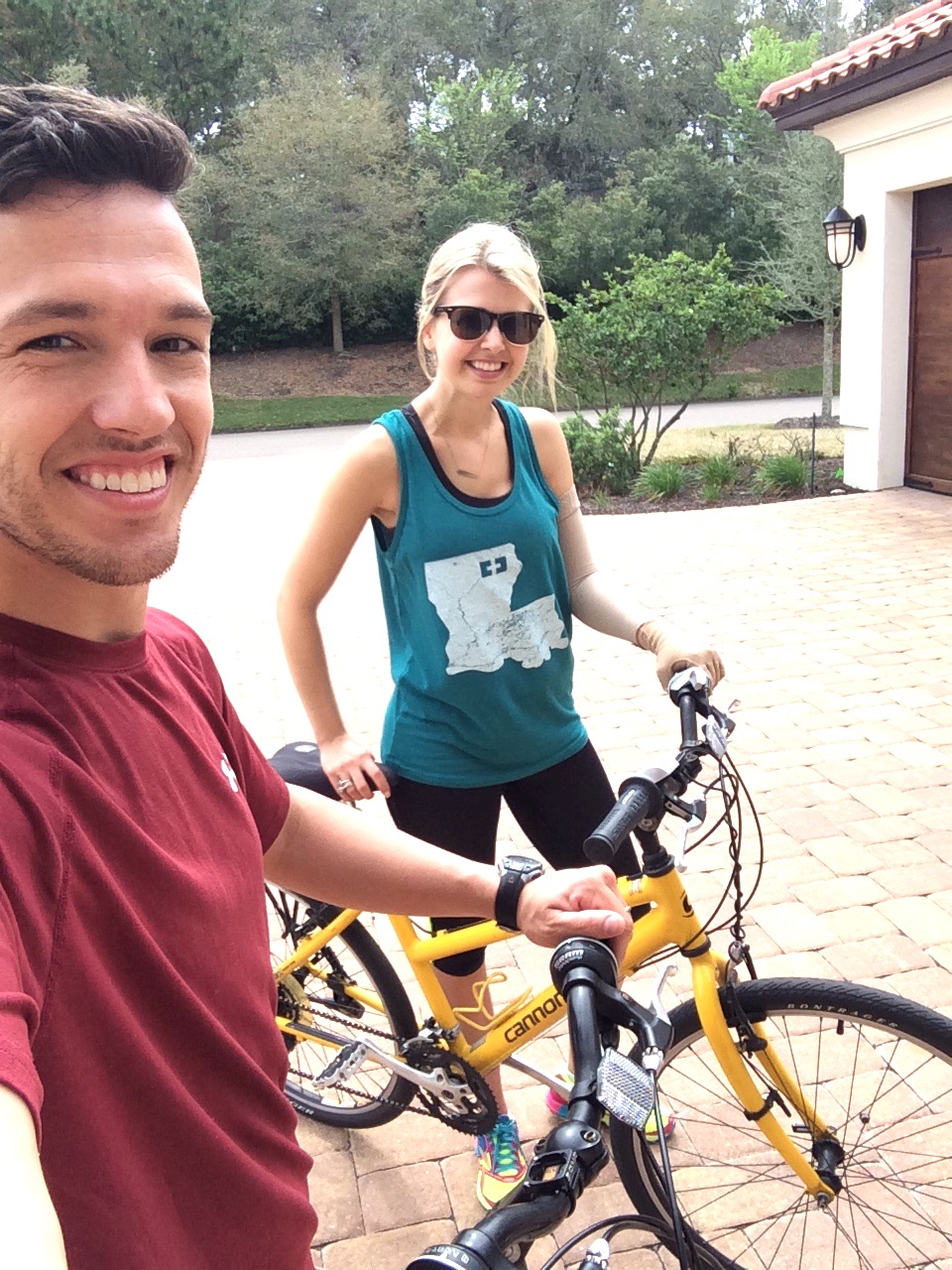 As we have discussed the best way to explain the miracle that has happened to bring our little girl home, we have realized that there really is no way to fully describe the miraculousness of her story.
We realize that so much of her story is hers to tell, and we want to make sure she can tell the parts of her story as she gets older, but we will fill you in on many of the general details.
The best way we landed on doing this was to try and take you on this journey with us. Starting from the day that our sweet girl was born.
Day 1
It was March 12, 2015 and Josh and I had initially guessed this day as our baby's birth day! But, the night before, we were at the hospital with the birth mom, as she thought her water may have broken.
The doctor confirmed that her water did not break and that it would be a while longer. So, we thought it would be the following week at best!
So, we woke up the morning of the 12th and decided to finally kind of relax. We knew we probably had more time than we thought. We decided to ride bikes in the neighborhood we were staying in, and that was a blast.
Well, everything was a blast besides the falling-off-my-bike-part. Let's just say it was a miracle that I didn't bust my teeth. We attempted to re-enact the moment:)
We went back to the house we were staying in (which was amazing), and we decided to rest that day. I decided to not wash my hair, put on sweat pants, take a nap and just kind of laze around.
Well, at about 4 pm, I get a call from the birth grandma and she tells me that she is sure that the birth mother's water has broken! Of course, we are excited, but skeptical as well, as we have had several false alarms.
We calmly (but panicked!), got dressed, packed up the car, put my dirty hair in a pony tail and headed to the hospital. Josh had just put supper in the oven, and that quickly was thrown away.
As I put on my makeup in the car on the way to the hospital, we discussed if this really was it. We cried and talked about how we could be parents in a matter of hours. There are just so many mixed emotions with adoption, though.
Because there is always a chance that the baby will not be yours, it is like this cloud that is over you where you so badly want to be excited, but there is a part of you that is really scared.
Yes, the Holy Spirit was with us, but we were still scared.
We got to the hospital, and we learned that the birth mom's water did break, and she was progressing quickly. We all got to the hospital around 6:30, and we began the wait!
We had some really good, but hard conversations with the birth grandmother. We knew that this night, or the next day would bring forth a precious, precious life, but we knew these next 2 days after her birth would be hard. Typically in Florida, a birth mother has to sign the adoption paperwork 48 hours after birth.
Little did we know just how hard the next 4 days would be. Yes, 4 days, not 2. I will get to that in a later post.
So, after waiting just a couple of hours, the nurses informed us that she was progressing really quickly and we needed to come back! We were ecstatic. We knew this was the plan, but we knew that when she went into labor, she might change her mind.
We were so thankful for a photographer that was allowed in the hospital room to capture the birth- can't wait to share some of these photos with you!
Quickly, the birth mother was 9 1/2 centimeters, and it looked like this beauty would be born on the 12th, and not the 13th. After about 4 good, hard pushes, we saw the most beautiful little girl be born! We were by her side the entire time and it was the first birth Josh and I had ever been a part of. AMAZING.
To see the miracle of life—absolutely breath taking.
The baby was immediately brought under a light, checked, foot printed, and she had to stay under a light for an hour or so, as her body temp was low.
Josh told one of the nurses that is probably just because my typical body temperature is low:)
The birth mother got sick shortly after the birth, and was really tired. So, once the baby's temperature rose she needed to be fed and the birth mother wasn't feeling well.
So, guess who got to hold the baby first and got to feed her first?! ME!!!!!!!!!
I was trying to contain my excitement. But honestly, I was just humbled and in awe that this was actually happening.
Many of the birth mother's family members showed up the night of her birth, and it was wonderful getting to visit with them and know them. All of her relatives were in favor of the adoption, so that brought peace to my mother's heart.
We stayed with the baby until about 3 o clock am, and then tried to give the birth mother some privacy. If she did indeed go through with this adoption, we knew these moments with her birth daughter were special and we needed to allow them to happen- as hard as it was to leave that room.
So, Josh and I headed to OUR room. Yes, you read that right. Our room! The hospital where the birth mother delivered was amazing. Initially, we were told she would deliver at one hospital and just a couple of weeks ago, she was moved to deliver at another hospital, as her doctor changed locations of his deliveries.
A hospital change just a couple of weeks before the baby's birth—a coincidence? I think not. We'll describe later on how pivotal these nurses were to us during this entire process.
Anyway, we got our own room. Because they had availability of a hospital room, they allowed Josh and I to stay there. We wanted to be as close to this precious baby as possible. And our room was right next to the nursery. Praise Jesus!
It was 3 am, and we agreed we would set our alarm every hour and take shifts going back and forth to the nursery to see if we could see her in there…and this is when the lack of sleep began and has continued to today…
I will share day 2 (Friday, March 13) with you all tomorrow. This momma is tired….
XOXO,
Aly