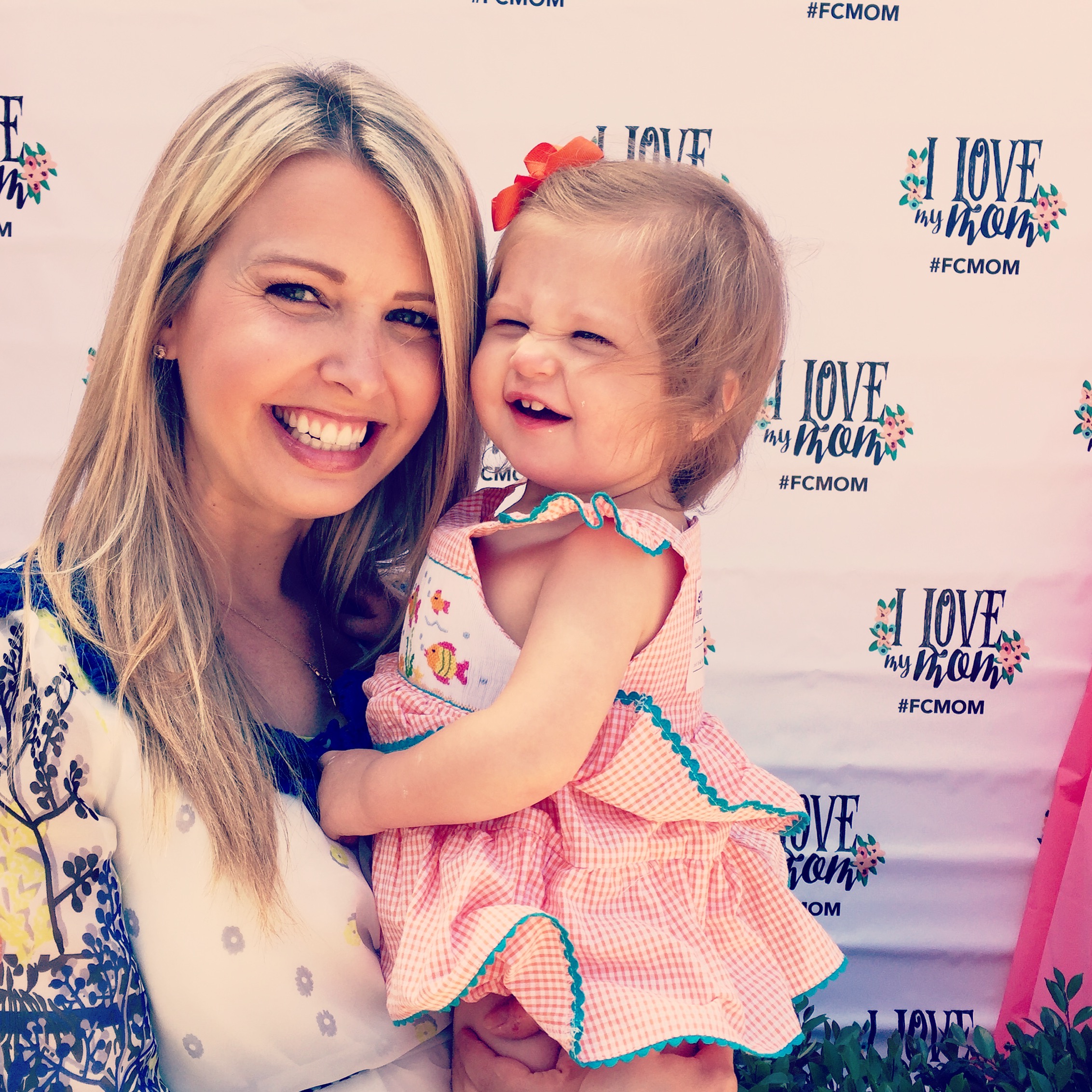 I just celebrated my second mother's day! I honestly cannot believe it. It was THE best Mother's Day.
Do you all remember my post about last year's mother's day? Well, let's just say that I got a serving of humble pie last year. I was ready to be celebrated, and then my husband asked me to serve in the parking lot at church (there were eye rolls happening on the inside of me). I'm not proud to say that, but it's true.
Yes, this led to some tense conversations with my hubby :), but ended in me looking at myself and realizing that Mother's Day was a day to celebrate my motherhood and my sweet daughter, not necessarily being put on a pedestal—I know we women love that. And I don't think it is bad to feel that at times and to be celebrated, but I had lost sight of the real meaning of Mother's Day.
If you are reading this and were at North Monroe Baptist Church's ladies' spring event a few weeks ago, I CLEARLY told Josh what I wanted for Mother's Day while speaking— I GOT IT!!! Wooo Hoo!!
I won't explain my entire story of what I wanted and why I wanted it on the blog, but I asked for a weekend away. I hoped to crush any reputation I had of being an always selfless mother, as I asked for a weekend away—
By MYSELF. Nope, not with my husband. Not with my daughter or with a friend.
Just me.
Me, myself, and I.
I know that might sound selfish. At my core, I am an introvert. I rejuvenate by time alone.
I love quietness.
Let's just say that my husband is not very quiet… I love that my house is full of laughs, screams, funny videos, and let's not mention too much his addiction to the hair dryer (that's another post entirely….;)
So, I just wanted a couple days alone in quiet.
I knew if I had a few days away in quietness before the babies get here, I can come back rejuvenated, and he got that for me!
That weekend is to come!
He got major brownie points!!!
As I've gotten older and done much self-evaluation, I've learned that time alone is huge for me. I would have used to think it was selfish and that I should never need time away, but I really believe it is essential. There are times to be alone and to be quiet- especially for my introverted nature.
I understand that those times are less and less easy to come by (especially with 2 girls on the way), but I do need them!
I was and am one happy mom! We then left to head to Houston right after church on Sunday on Mother's day for my 4 1/2 year cancer check up.
Of course, I always get nervous when my 6 month check ups come up, but everything was perfect. My doctor did not know I was pregnant, so let's just say she was completely floored!!! It never gets old to see people in amazement of my pregnancy. Click the link below to Aly's Fight Facebook's page to see some pics of my doctor's visit.
https://www.facebook.com/alysfight/posts/893774594078137
I have this urge to explain to people how much of a miracle my pregnancy is. Like this wasn't unexplained infertility! This wasn't a slim chance of pregnancy- this was YOU CANNOT BE PREGNANT unless you have an egg donor!
But I realize that it's not my job to make sure everyone understands that.
It just blows.my.mind.
When I was diagnosed with cancer, I wasn't sure if I would live.
After I learned that I would live, I did not know if I would be a mom.
After failed fertility treatments and a doctor telling me it was next to impossible, I questioned my ability as a mom.
Was God protecting me from being a mother?
Would I screw up a little life?
Would I get sick again and leave Josh as a single dad?
Am I just not motherhood material?
And then our sweet angel, Genevieve Rose came.
I learned that all of those questions I was asking myself were all lies… I had begun to believe the lie that I would never be a mom. That God placed this desire in me to never be met.
If God has placed a desire in your heart to be a mother, he WILL meet that desire. I do not know when it will happen. I do not know how it will happen. But it will happen. You have to believe that.
As a soon-to-be mom of 3 who wondered if I would be a mom at all, please take it from me.
Your only role is to continue taking baby step by baby step (no pun intended).
Many of you may have strained relationships with your mother.
You may have lost your mother.
You may have lost a child.
You may be longing to be a mother.
You may hate being a mother.
You may have gone through a failed adoption. Or miscarriage. Or stillbirth. Or had an abortion. Or place a child for adoption.
I am so terribly sorry if a day like Mother's Day is tough or even unbearable.
I wish I could just hug you so tight.
Regardless of the emotions mother's day brings to you, God does not intend for it to be a sad day. I pray we can learn to focus on his plans for us and His desire for us to get to a place where we can truly celebrate a day like Mother's Day.
If you are waiting to be a mom, you must trust God like you never have before…
Do not think you have to just sit and wait. God may be calling you to do that, but He also may be calling you to act. Trust that as you act, he WILL direct you.
Being a mother is not the most important thing in my life.
It is not the reason for my existence.
But it sure is incredibly amazing. It is a journey that so far has been completely fulfilling, challenging, and the most joyous time of our lives.
May God continue to equip me to be the mom my little girls need. I want to exhibit Christ in all I do. Lord, help me! I am so inept, but I know with your help, I can raise these girls to be warriors!
Happy Mother's Day.
To Mothers.
To Grandmothers.
To those striving to be mothers, you will be.
I can't wait to hear how and when.
You are incredible.
Love,
Aly