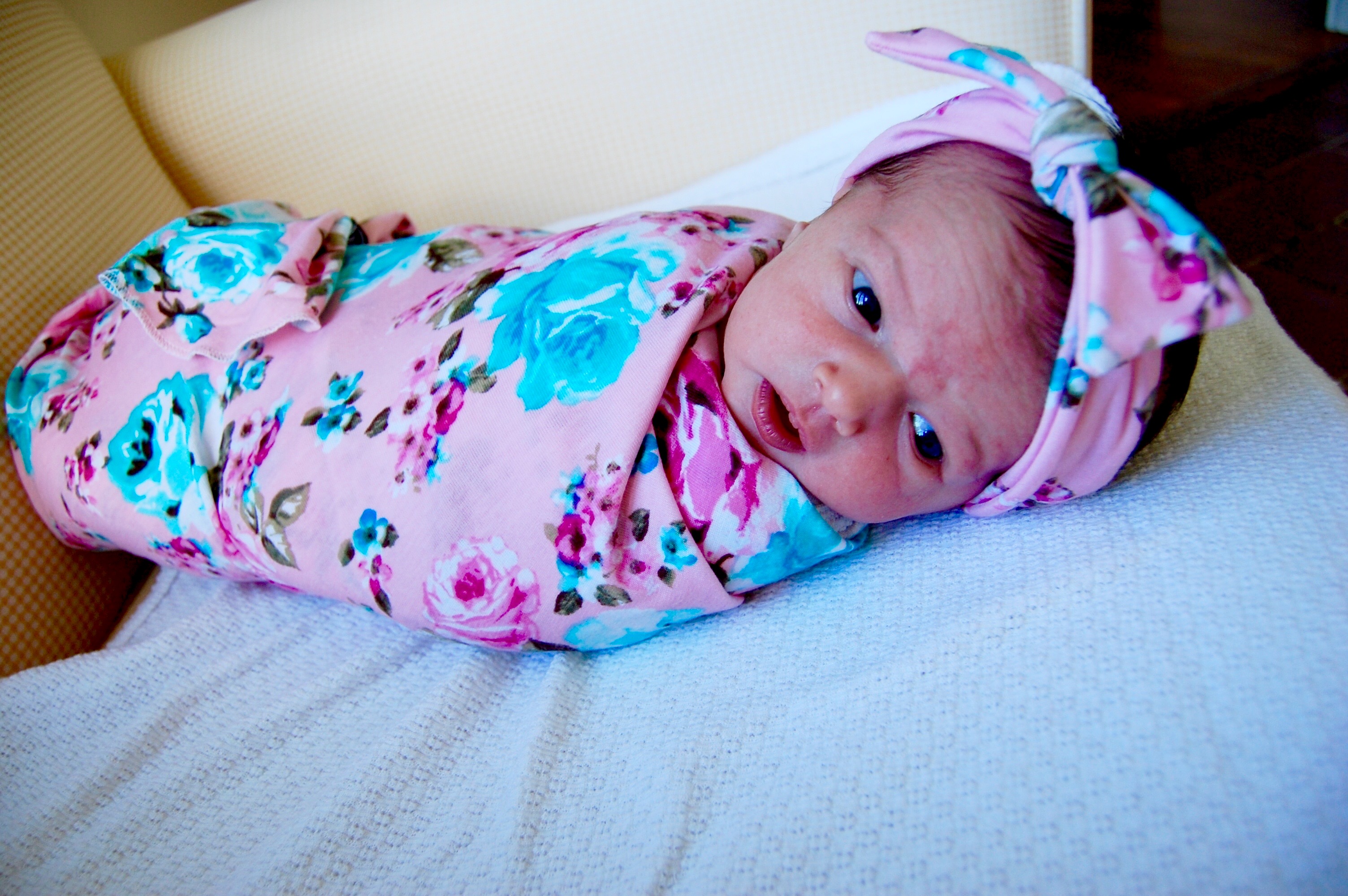 So, after the false alarm labor, Josh and I had to head back to our Kentucky home and tell our family that I was not in labor, and so the wait began, yet again.
Shortly after we got home, I noticed a purse on the kitchen table and I knew it wasn't my mom's, Renea's, or Tammy's. It looked like one my sister had… I quickly became suspicious, as I knew she was home in Shreveport.
I headed down into the basement (to see if my suspicion was correct) to find my sister playing with Genevieve! She surprised me! She drove the entire way by herself to see me and spend some time with us before Vera made her arrival. I was so wishing even moreso at this point that I had really been in labor, because it would be perfect timing if Jessica was here. It was so wonderful to have my sister here, and I definitely was surprised. I am still amazed at those who have driven or flown here to be with us during the wait…to be gone so long from home has been hard. We have been so blessed to have people here with us.
We went about Friday and had a busy day. I would hear from some people to rest and that rest would bring on labor. I would hear from others to walk and stay busy, as that would bring on labor. I heard to eat spicy foods, eat pineapple, walk up and down hills, climb stairs, and to do what brought this baby in my belly in the first place:) Believe me, we were trying it all, but she was just not ready!
I didn't have any more consistent contractions on that Friday, and was just trying to enjoy the time we had with our family and our course our Genevieve before ours and her little life got turned upside down.
Saturday morning came, and my mom, sister and I took a long walk that morning. We walked for about an hour and a half and enjoyed our time together walking some pretty streets in Kentucky. It was a beautiful morning!
We came back, got dressed and headed out for a lunch. I started having some contractions again after our walk that morning and started timing them on my app that our doula suggested. They were still far apart and not too consistent. That morning, Josh's dad told us about a farmer's market close to the house we were staying in, so we thought we would take a walk there. I knew people had suggested walking, so I thought we would just give it more of a try (even though I had been exercising every day). Josh and I started the walk to the farmer's market, and it took FOREVER! We finally decided to turn around before we even got to it! I was having harder contractions at this point that made me stop and hunch over at times, but still they weren't any more closely together, but were definitely stronger.
We were exhausted!!!! Thank goodness for some store stops along the way for us to rest and sit down. It was so hot outside and with the contractions and just pure tiredness from walking at 40 weeks and 4 days pregnant, I was exhausted.
Once we got home, we decided we wanted to continue to walk to see if the contractions would pick up. We decided to go to the mall (all of us) and really just walk. We had just been to the mall, so it really was for no other purpose than walking. Because of my contractions during my walk with Josh that day, we texted my midwife to see if she thought I could be getting closer to labor. She thought there was a good chance we were getting closer because of the contractions, but because of the lack of consistency there was no real way to tell. I also was questioning what was a contraction and what was cramping… I was so so so confused!
After eating dinner at the mall food court, and walking a good bit, our entire family headed back to the house, but Josh and I continuing to walk the mall. We were still trying to decide if we should head up to the hospital to have me checked out. I had felt so silly the morning before going up to the hospital. Yes, the stupid feeling was self-imposed, but I did feel stupid nonetheless. The thought of having my midwife head up to the hospital to only learn I still was not in labor made me sick to my stomach. I knew they were probably thinking, "This first-time pregnant mom is reading into everything and she just needs to be patient."
Believe me, I was telling myself the same thing. I did not want to be overly worried about possibly going into labor, but once again with me being overdue, I definitely wanted to be overly cautious for my baby's sake.
So, we walked around until the mall closed, and then decided to walk around Whole Foods for a bit. Everything was starting to close, as it was 10 pm. Our midwife suggested we come in the hospital and get checked. On the way to the hospital, I cried to Josh saying it was silly for me to even come up to the hospital. He was so great about being patient with me and always having me follow my instincts, which we believe to be the prompting of the Holy Spirit, even on the false alarms! He gives us those instincts for a reason.
So, we headed up to the hospital. We didn't bring in a bag. We didn't bring in anything but my purse. I was sure that we would be up there to just get checked, realize I wasn't in labor, but learn the baby was okay and head back home. I was telling myself it would all be okay, and to be thankful for another night that I could get some sleep back home.
As we got to the hospital, they placed me in triage shortly after 10 pm. They checked me to learn I was about 5 cm, so the contractions were doing something, but we still were not sure if I was in active labor because my contractions were inconsistent.
They suggested I walk around the hospital for a couple of hours and then they would re-check me to see if I had any change, and if so, they would know I was in labor. Soooo, we walked yet again. We had the absolute sweetest nurse, Sarah, walk the halls with me and talk me through contractions. She had me hold onto the rails in the hallway and sway back and forth until it was done. She was so kind, and I really enjoyed getting to know her as we were just waiting for time to pass until I was checked again. And I appreciated the advice of how to get through contractions effectively.
I had assumed that I would either get to the hospital and leave immediately if I wasn't in labor or stay long term until the baby was born if I was. I did not expect to stay another couple of hours before I was either sent home or admitted to the hospital. The contractions did start getting stronger and closer together, as I did not want anyone talking to me or touching me when I was having a contraction:)
The time finally came for our midwife to check me again, and I was 6 cm. She confirmed that I was indeed in labor. I was just so thankful to know what labor was! I wasn't crazy, and this pain I was feeling was the real thing- Thank you Jesus!
We called our family around 1 o clock am (sorry parents!) to tell them that the midwife was going to admit me and I was indeed in labor, for real this time!
I was finally admitted around 1:10 am, and this is when things started getting super intense…Labor and delivery is one of the most amazing, awful, beautiful, terrible, most painful, most miraculous things I have ever experienced.
There were so many things I had geared myself up for to expect from labor and delivery, but there were many things that occurred in the next few hours that there was no way to prepare myself for: An allergic reaction, nausea, different labor and delivery birthing positions, breathing techniques, indescribable pain, and one of the most incredible, amazing, miraculous moments of my life… I promise to share as much as I can.
Until then,
Aly