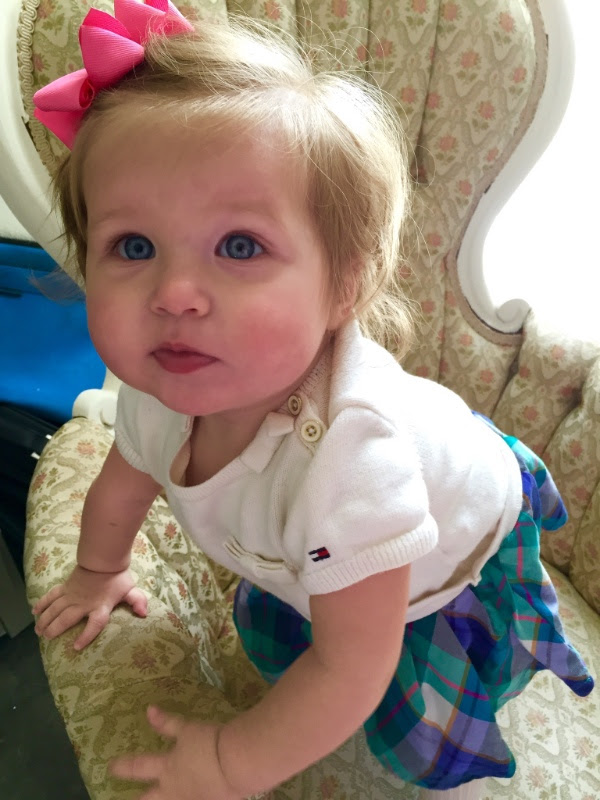 Lately, with Genevieve's 1st birthday coming up (YES, can you believe it?!), I have been remembering everything from just one year ago. With remembering how different life was a year ago, I am also remembering many other things.
Last year at this time, I was in Jacksonville waiting for our sweet girl to get here. We had a couple of false alarms and Josh and I were waiting on pins and needles for her to join our family. At this point last year, things were going well. We were able to go with our birth mom to her doctor's appointments and spend quality time with her until she went into labor. Little did we know the roller coaster that was about to ensue!
The love I have for Genevieve is so intense, I just can't describe. I know many moms struggle with this–wondering if they will love each child as much as the ones before them. I know I will, I just know it. But isn't it just so hard to imagine how God just increases the love that you have to give and share? I know I will experience it, but it is hard to imagine that I could love a baby more than her!
She is just so incredibly precious, sweet, silly, beautiful, fun, kind…the list goes on and on. Don't worry, there will be a post ALL about her around her birthday, but this momma is definitely reminiscing as we were anxiously awaiting her arrival this time last year.
Now, here comes some of my confessions. And these confessions come from never forgetting…
It is still hard for me to post pregnancy updates.
I am BEYOND thrilled to be pregnant. The miracle growing inside of me is something I have never experienced and only dreamed about, and it truly is so miraculous… I can't even comprehend it. But, I confess that it is still hard for me to post things about it.
Am I excited? Absolutely. Am I ecstatic? Incredibly.
But, here's the truth. For years I was that person on Facebook or social media with tears in my eyes as I read of another's pregnancy.
I was that person who so badly wanted to be a mom and I saw people become pregnant as my arms were still empty.
I was that person who was genuinely happy for other people's pregnancies, but their growing families magnified attention on my family that wasn't growing.
God is revealing much to me and telling me I need to post and share because I bring hope to so many, but I struggle with it.
I know there are those who are still struggling with infertility. There are those with failed adoptions. There are those who have suffered multiple miscarriages, stillbirths, gone through with abortions—I know the pain is so deep.
So, just know that each time I share my exciting news, I remember you.
I pray for you.
I will celebrate with you when you become a mom for the first time or the eighth time.
As I share pictures of my Genevieve, I know there are those who so badly want to adopt but can't find a way financially or just are still waiting on a match— I remember you. I pray my daughter's gorgeous, redemptive face gives you hope.
I am promising to post more. I am making myself post more. But for those of you who have been wondering why the posts haven't been as often— I just still hurt for those who are hurting and I never want our current season of immense joy to hurt you.
I just keep praying that it gives people HOPE! We didn't think we would have our daughter, Genevieve. We were told we could not get pregnant. Who would ever think that God would bless us with another baby through adoption without seeking it out?!
Let's just say—at many times, it wasn't me that thought God could do all of the above. Yes, I had incredible moments of faith, but I also had plenty of moments of doubt.
I pray you seek God's face in this period of waiting and you can find joy in waiting for whatever it is you are praying for.
I NEVER forget,
Aly