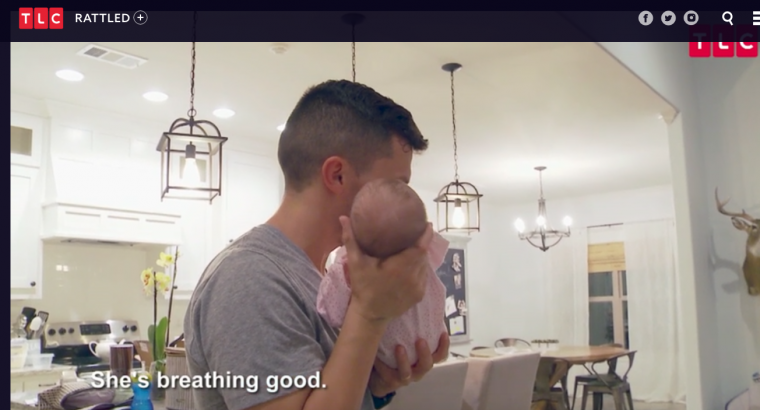 Hi guys! Thank you to all who tuned in for episode 7. And if you didn't and want to catch up, download the free TLCgo app to watch the episodes you missed! And if you just want to read a recap, read here:)
This episode summarized our trip home from Kentucky, a scare with Lydia, and the reality of being home without our family to help day in and day out.
Here are some questions we have been asked that I will try and answer here:
1.) 31 hours? Did the trip home really take 31 hours?
Yes, yes, yes! You guys, it was crazy. We came up to Kentucky in a Motorhome where everything fit pretty comfortably. Josh's dad drove our friend's motorhome back to Louisiana as we didn't have a great place to leave it for an extended amount of time in Kentucky. But on the way home, we had our minivan and my mom's yukon. I seriously don't know if we would have been able to fit anything else! Yes, it seriously took that long. The babies were on the same eating schedule by the time we headed home from Kentucky, but we were stopping every 2 hours to feed them. To feed the babies, it took at least an hour at each stop. So, not only were we stopping to feed every 2 hours, but it would take almost another two hours to warm up bottles, feed the babies, change diapers for all 3 girls, get snack, etc…It felt like we had been traveling so long, but were making little progress. The poor film crew that was with us. I seriously think that trip scarred them for life!!! One of our friends on the film crew that was with us that day on the crew still says that was the craziest drive ever.
2.) When you fell in the back of the car, did it hurt?
Oh my word, yes! We had all reached our end and hearing Genevieve cry was so sad, and she kept throwing her pacifier and blanket on the ground, and I felt so sorry for her. As a parent those moments are so hard, because I was wanting to discipline her for throwing her blanket and pacifier, but I also knew she wasn't understanding all that was going on on that awful drive. She so badly wanted to get out of her carseat, and I just kept trying to explain that we had to be in the car just a little bit longer. Well, not just a little bit, but I was trying so hard to make her okay! And when I climbed in the back to get her pacifier and blane, I fell in the car and hurt my neck! I know it looked funny on the show, but I seriously hurt my neck. To this day if I move my neck to the left, something is still up with it. It was awful. We just made a decision to try and laugh, but we were all SO done, and just SO ready to be home.
3.) What was it like to finally be home?
It was amazing! When we pulled into our drive way and saw the signs welcoming us home, we were so so so happy! To be gone from home for almost 2 months- that is just way too long! We love our house, love our town, and love our friends, and we love our life. To finally get settled in with the girls was heavenly. But, it was funny because Genevieve had forgotten so much about our house if that tells you how long we had been gone. I remember her having to be walked to her room and she was scared of our dog, Bella whom she adored before we headed to Kentucky. Now, she loves Bella again, but I think that was such a picture to me of how long we had truly been gone that Genevieve had to be re-introduced to everything.
4.) When Lydia started holding her mouth open like that, what were you guys thinking?
We were scared. It is never easy to see one of your kids struggling, especially when you aren't sure what is going on. We had never seen Genevieve or Vera do anything like this, so we were just unsure what was happening. Once we realized she wasn't choking, we all could take a deep breath. But it was just still so sad to see her like that. Josh actually called my aunt who is a pediatric nurse, and she gave us medical advice. She just lives a few houses down from us, so we knew that if we got concerned again, she would come over immediately to check on our Lydia.
After the film crew left that night, she was completely calm and stopped doing that with her throat. She never did it again! They just happened to be here the time it happened the worst.
5.) How was the first night home?
The first night home was great and exhausting! Before the babies were born, if we had a trip like that, I know that Genevieve would sleep like a rock and we all could get a good night sleep. And if we had one baby, one of us could be on baby duty, while the other got some good sleep. But that wasn't the case with these two sweet babies! Genevieve slept great, but I had Vera the first night and Josh had Lydia. When they were little, we would take turns of who had which baby and we would get up with that baby to feed/ change diaper, etc… The girls slept great and were getting on the same schedule, but Josh and I laughed at how we would both be in the living room feeding and changing the girls and not say one word to each other. We were just in job-mode and then after we fed and changed them, we would lay them right back down. We seriously have been blessed with some great sleepers! But it definitely was the reality of not having our family with us anymore to help and we were on our own. We were so grateful to be on our own, but it was scary too! But it did make my heart so full to have my little family in our house and to have one baby on my side of the bed and one on Josh's side. Thank you Lord!
Thank you all for watching yet another episode and following our family's journey!
God Bless,
Aly