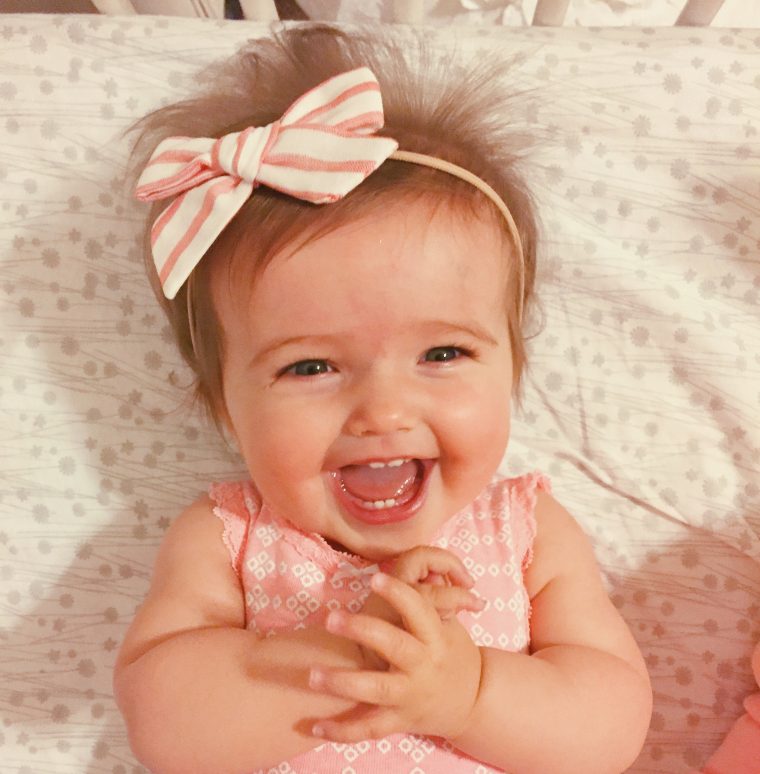 Can you even believe it!?! The twins are 8 months old. I cannot wrap my head around it. People told us that with a second child, it goes by so much faster, and it is so true! And I almost wonder if because we have two "second children" if it has even gone faster.
Wow, it truly does fly.
One of my main goals with my children is to enjoy every second.
The giggles.
The smiles.
The diapers.
The exhaustion.
The cuddles.
The tears.
The hand holds and melt downs.
Every.single.bit.
My main struggle as a "twin mom" is being able to have individual time with my girls.
I will find myself in tears wishing I had individual time with them, and then I will feel guilty for even thinking that, because I am so blessed to even be having that concern.
And, man, they are too!
We are trying to get better about figuring out ways to get that individual time, but once again, I am grateful to even have to be worrying about that.
For Vera and Lydia to have each other—what a gift.
I want our home to be a place of rest, worship, fun, and joy.
If I can accomplish that atmosphere everyday in my home (only by God's help), I am living my literal dream and feel like I am following part of my God-given purpose on this earth.
God is guiding me on this path of motherhood, as it is not cookie cutter, and all of my girls are different.
But I know that with Him guiding me and me leaning on Him each day, this journey with my girls will be nothing short of incredible.
I wanted to write a little note to my Vera, telling her a little about herself at this sweet age.
________________________________________________________________________________________________________
Dear Vera,
You are so special!
You are going through a phase right now where you want me all of the time! While it can be tiring and hard to care for your other sisters while you want me, I am soaking it up! Thank you for loving me so much. I love holding you and saving you from crying, even when its completely unnecessary to pick you up:)
When you smile, it is literally impossible to not smile back.
I pray that you continue to have an infectious joy about you. That joy is God-given, and I pray you never water that down or let the world diminish that joy. I am praying against that even now.
Smile as big as you can. Smile as big as you want to—you never know who needs to see that big smile.
You are holding your bottle on your own. When your daddy feeds you, he lets you hold it, but I have to admit I don't let you hold it. I want you to stay a baby as long as possible, and it is too much for mommy to let you hold your bottle right now, so I just hold it:) Yes, more work for me, but I love to hold your bottle and stare into your sweet green eyes.
You love people! I hope you get your daddy's love for people and God grants you favor with Him and with others. What a gift to love being around others and drawing strength from them.
You LOVE Genevieve. When she comes in your room in the morning, you let out the biggest squeal and start clapping your hands.
You are always looking for Lydia. Right now, you are in a bit of a war over toys, but when I see you smile at each other, my heart feels like it is going to explode.
I pray you to always hold one another in the highest regard and love each other as you love yourself.
You love to wave and clap your hands!
You love to bounce and dance.
You love to "people-watch" like your big sister and daddy. You do not miss a thing! I have to sneak by you, but if I make the smallest noise, you will cry for me.
Vera, you are so beautiful.
I pray that your outward beauty is just a small window into the beauty that lies within.
You might find it strange that I pray for every little detail of your life at 8 months old, but I want to cover you in prayer.
You are so precious, my love.
I know you are going to be a world changer and do incredible things.
Getting to spend every day with you and get to know the different intricate things about you as each day passes is such an honor.
You are my miracle baby, and you bring me so much joy.
I love you.
Happy 8 Months, Ver Bear.
Love you forever,
Mommy