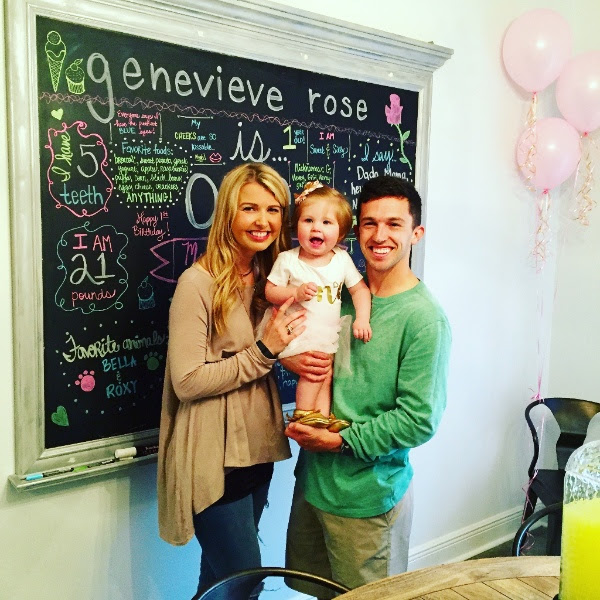 I just cannot believe it. My sweet girl is ONE!
It was a great day. We had a small party with family, and Genevieve had a blast. This will be her only birthday as an only child! One of my favorite things to do for forever will be to celebrate her sweet life.
Any chance I have to brag on her to anyone and everyone, I will. She is just the most amazing little girl.
I was talking with a fellow mom blessed by adoption today, and we were talking about how we pray our babies will grow to love their adoption stories.
While I know there will be days of difficulty and struggle, we pray they are proud of their stories. That they can share when they want to, and own their adoptions.
That they see how God handpicked them to be in our family. All of my babies will be adopted in one way or another, and I want to always make that abundantly clear.
They each have their own miracle story, and I think that is incredible.
So, here is a letter to my sweet Genevieve on her first birthday:
Dear Genevieve,
You are a continual source of joy in mine and your daddy's life. The joy the Lord has allowed us to experience through you has been incredible. Just last night daddy and I were up late—just talking about you. You don't keep us up for lack of sleep, but because we stay up just talking about how much we love you!
We play with you all day for you to lay down in your bed and us to continually adore you!
You are kind.
You are patient.
You are beautiful in every way.
You are hilarious.
You want to make us proud. And you do, always.
You are loving.
You are smart.
We know you are so incredibly special. To be able to watch you grow and learn–to watch God's personality and plan for your life to play out—wow, it really is the most amazing thing ever.
You made me a mommy.
You made me realize a love and sweetness I didn't know existed. I pray that never leaves you. I pray the hardness of this world never makes you hard. May you love hard and share your tender heart with others. May you always guard your heart from evil, but never guard it too much where you don't give it away to trusted loved ones and Jesus.
It is hard to imagine that God loves you more than I do. I really have a hard time fathoming that.
But it is possible.
He loves us more than we can imagine.
I always call you "mine" because you are. I prayed for you, and I hold you close all the time telling you that.
But the truth is:
You are His.
I only have you for a short time, and then you will be in His loving arms again. I just pray I always guide you to Jesus. I will mess up. I will have to ask you for forgiveness many, many times, but I pray I always point you to Him when I don't have all of the answers, because I just don't.
The only thing better than having you on earth with me will be being in heaven with you (and dying when we are really, really old!!!!).
May you always know how deeply and passionately you are loved. Thank you for loving me and trusting me as your mommy. I promise to try my best to show you God's love today and always.
You are absolutely amazing, my love.
Happy 1st birthday. I know my years to come with you will top this year, but that is so hard to imagine right now because you are the dream.
I love you, sweet Genevieve Rose!
Loving you always,
Mommy