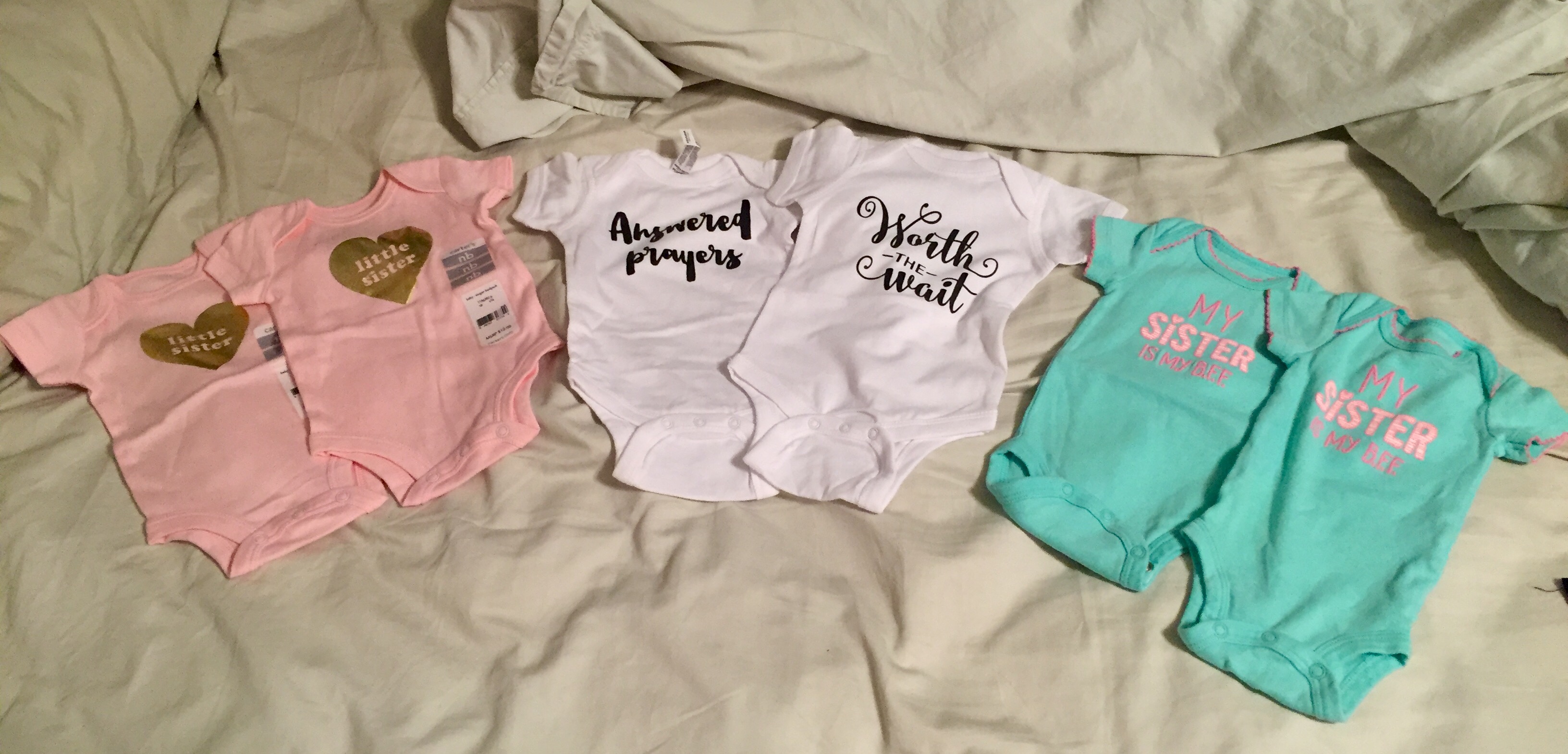 This post covers Thursday night (the day baby girl was born) through Friday night.
During the middle of the night, occasionally one of us would yell out, "Ow…" Yes, there were audible noises of pain from sleeping on the tile floor, but thankfully we did get some sleep.
We woke up and immediately got time with sweet baby girl. We were able to go visit her birth mom in her room, and we were thankful to have given her some good time with the baby that night. It was important to us for her to have some good time with the baby before she would be ours forever.
The morning was full of lots of snuggles and kisses. A lady came by and took newborn photos in the hospital, and it was sweet having someone document our "atypical" family. The birth mom is always so kind to include us in her photos and to want pictures of us all together. They never make us feel like we are imposing. We are always careful to give her space, but she is always the first to invite us in and have us all in her space. She amazes me with how gracious she is to us.
On Friday afternoon, we wanted to let the birth mother get some rest, so Josh and I took the baby to the nursery. We took turns feeding her and loving on her. A couple hours after we had been in there, a worker came in to tell us she just met with the birth mother. We asked her how it went, and she said, "I'll let her tell you."
Immediately, my face went white, my ears clogged up, and my chest got hot and my heart was beating so quickly. I said, "What? What do you mean." She continued to say, "I'll let her tell you."
I kept thinking, "This cannot be happening. Not again. This cannot be happening." Of course, this wasn't about us. This was all about a baby girl, but of course my mother's heart was breaking. I knew the birth mother's heart was breaking. Anyone that tells you adoption is completely joyful just does not know the other side.
Adoption is amazing, but there is so much heartache involved.
We prayed as the worker left the nursery. We prayed for this little girl. We prayed for the birth family. We prayed for God to guard our hearts. We prayed for wisdom, and we rolled the baby back to the birth mom's room to talk with her.
As we walked in, the birth mom was sobbing, and we were too. We asked how she was feeling, and she just said that she didn't think she could do this again. She wanted to try and parent this baby. Of course the human side of me wanted to kick and scream, but the Holy Spirit in me was quietly speaking that everything the birth mother was feeling had to do with how much she loved this baby.
She wanted the chance to parent this baby. We listened to what she had to say the majority of the time. We asked questions. We said our thoughts. The one thing we kept saying was that this was not about us. It was all about this little girl, her soul, her future, her eternity. We were all on the same page with this.
Even when we disagreed in conversation, there were no harsh words said or dissension between any of us. There was only love and us all trying to discuss the best for this precious baby girl that we all were in love with.
After the birth mom remained firm in her decision to try and parent her, we asked if we could have a private moment with her.
I can't even describe these next moments. There have been defining moments in our marriage where I have seen my husband completely devastated, broken, sobbing—obviously cancer was one of those, but having to say goodbye to this little girl was one of those moments as well.
We prayed over her, her future, her soul, her eternity…for God's perfect will. It was absolutely heart wrenching. We kissed her, hugged her, and swaddled her for what seemingly was the last time. It was completely and utterly rip-your-heart-out-of your-chest type of pain.
We told the birth mother goodbye and told her that we were going to stay nearby until we knew for sure that she and the baby were okay. We also couldn't fathom leaving this little girl knowing we didn't do everything we could to show her how much we loved her and would fight for her, and we wanted to support the birth mom, even if it meant this baby not coming with us.
Coming home to tell our parents that we most likely would not have this little girl was awful. We by no means are comparing our pain to the birth mother's—I cannot imagine what she was feeling, but all I can speak from is my perspective. And it was incredibly devastating and painful.
I dreaded coming home to tell our parents this news.
More tomorrow,
Aly