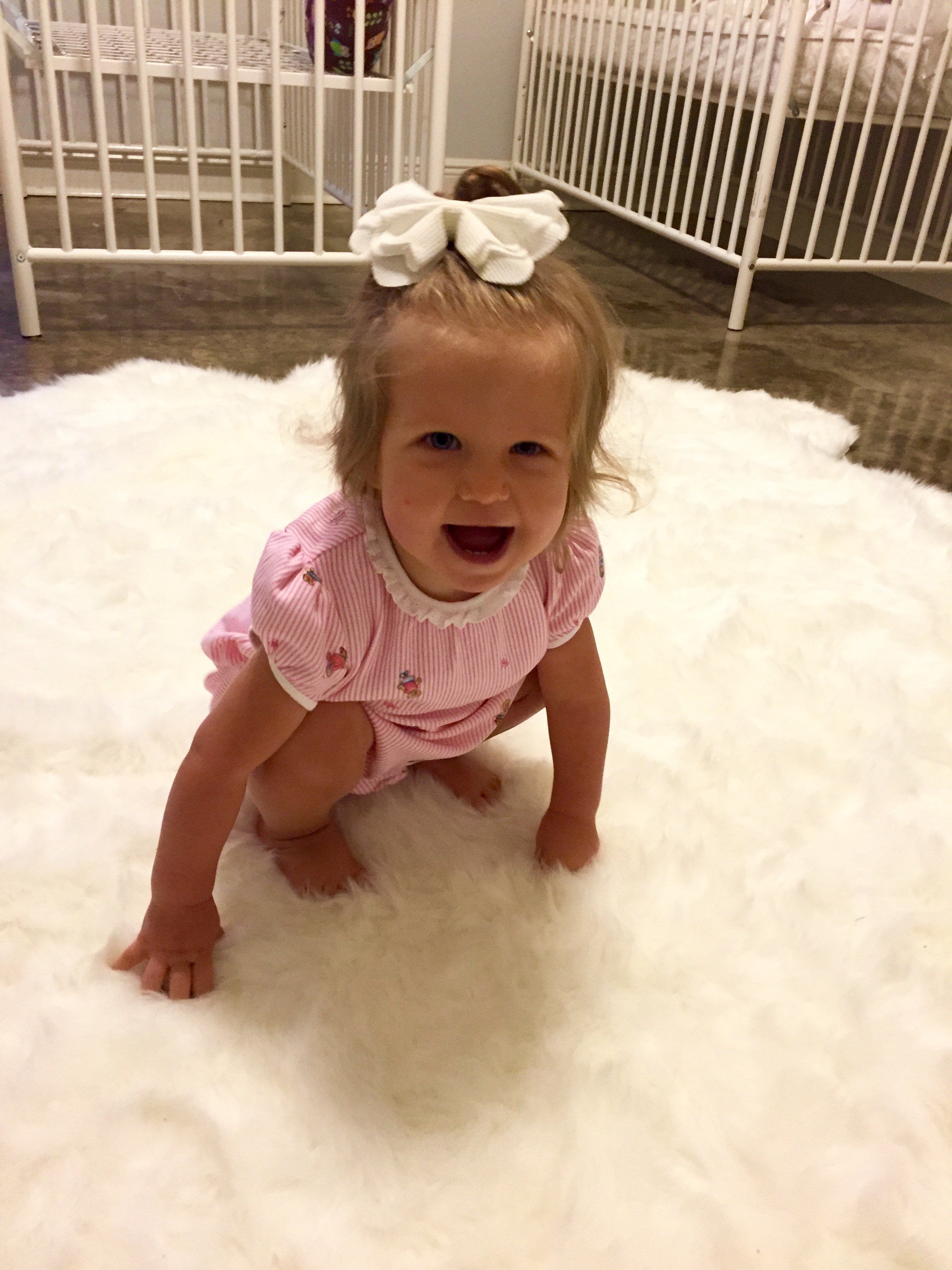 This last week has been rather eventful! First off, there seemed to be some confusion about our last post. We are not moving to Kentucky for good. We are simply going to be there for an extended period of time for us to have both of our babies. Then, we will be coming home (to West Monroe) soon thereafter! Most understood what we meant as they read the entire post, but we just wanted to clear that up:)
Lots has been happening here at the Taylor house. We are preparing our babies' room, and we are making progress. There is no way we could have done as much as we have without the help of my amazing husband, incredible mom, and Aunt Terri. They have been so helpful. It really is true what they say–being pregnant and chasing after a baby/toddler is no joke.
So, to have help in putting the nursery together has been an absolute blessing!
It has been a week of pain and frustration, but once again our God comes through.
If you remember, I shared back in December about a terrible arm infection I contracted. It was the first time I had an infection like that, even though I had been warned something like that may come from me having lymphedema. Because I have no lymph nodes in my left arm from my mastectomy, when an infection gets in my arm, there are no lymph nodes to filter it out; therefore, it settles in my arm.
I remember seriously being in the worst pain of my life in the winter when this happened. I had no clue what was going on, but it truly was the most pain I had ever experienced (and yes, this is coming from a girl who has had some major pain and surgeries).
I prayed and believed it was a one-time thing, but unfortunately, it was not.
Last week, I told Josh that I felt my arm hurting like it did when I had the infection. However, it wasn't swollen or red, so I thought I might have just pulled a muscle. Well, let's just say things escalated quickly. About an hour after it started hurting, it was swollen so tightly, bright red, and I was crying in pain. It was clear an infection set in, and it was spreading pretty rapidly.
Ms. Donna Saterfiel and her team at Family Convenience Clinic are amazing. They immediately hooked me up with antibiotic shots and medicine to help my infection. Unfortunately, it is not a quick fix, so the next two days were spent in writhing pain. I could not move my arm it was so painful.
It did not respond as quickly to the medicine as it did last time, and Ms. Donna as well as my OB agreed that pregnancy slows down your immune system which is why it took longer to clear up. They were both preparing me to be admitted to the hospital to be put on IV antibiotics.
Ms. Donna laid hands on me and prayed for me in the doctor's office, and guess what?
I wasn't admitted. Praise God! No, it wouldn't have been the worst thing if I had been, but it would have been extremely discouraging.
It took about a week for my arm to completely clear up, and now it is back to "normal". Thank you Jesus!!!
With everything going on with our new babies and preparing to head out of town, I get these little reminders of what I have been through, and it stops me in my tracks. This terrible surgery I had leaves me with these side effects at times (even though I am believing they will stop). This surgery that helped heal me of cancer causes this pain—healing and pain often go hand in hand. That sound like an oxymoron, doesn't it?
Oh the days I prayed and prayed to have side effects from being healed from cancer!!!! Obviously now, I do not pray those things, but when your life is threatened you convince yourself to deal with anything, as long as you can live.
Long story short, God has healed my arm from infection, and I was given another level of thankfulness for His healing power, yet again.
That same week, we went for my OB check up, as I have more ultrasounds now since being diagnosed as having gestational diabetes. Our baby is measuring perfectly, and my blood sugar has been perfect- praise God!
However, when we went last week for my check up the baby I am carrying had turned breech. I had a feeling this might be the case because I had been feeling what I thought was stomping on my bladder and have been really uncomfortable (fun, fun). I was really disappointed, as we were having to have discussions about a possible C-section.
Once again, a C-section is not the end of the world, and we have several friends who have had them and done just fine, but I have been praying for a natural birth and was hoping to not have to have surgery.
So, we prayed. We prayed for my arm. We prayed for our baby to turn. An elder prayed for us at church last Sunday.
A week later, my arm is healed. Praise Jesus!
I made a chiropractic appointment for the following week in hopes of turning our baby. I scheduled an ultrasound at Sneak-A-Peek Boutique (Jennifer is the best) right before my chiro appt to confirm she was still feet down before our chiropractor would do what he would do in hopes of flipping our baby back to head down.
I had continued to feel stomping on my bladder, so I was praying she moved, but not too confident. Josh kept telling me he was believing she moved.
As she placed the ultrasound wand on my belly, what do you know?
Sweet baby girl was completely head down. I guess her head can "stomp" too. I mean, God is just so good to me.
No, not always, and honestly more often than not does God not answer my prayers that quickly, but after a week of pain and disappointing news, it was just a reminder again that God is God, and He cares about the little details of our life. That would have been true had I been admitted and our baby still hadn't turned, but it sure boosted our spirits and faith for God to have answered "yes" so quickly.
Now, we will just keep praying for continued healing for my arm, and that both of our baby girls stay head down.
I was talking to a friend this week about complete surrender to God. How we have our plans and when things don't go that way, it throws us. We discussed the freedom of simply doing what we can do, while recognizing that His plan is what we ultimately trust and peace follows.
If you have ever been through a situation where you have no choice but to surrender, you can relate with me. There were times where we did all we could do, so we just had to wait.
We had to stop.
We had to trust.
There was no other option.
But did you know we don't have to wait for our situations to throw us into surrender? We don't have to wait until surrendering is our only option.
We can choose surrender. And let me tell you, choosing to surrender before being forced to surrender is sooooo the way to go.
I wish I could say we chose to surrender first with cancer. We didn't.
I wish I could say we chose to surrender first with us having children. We didn't.
I wish I could say we chose to surrender first when our adoption of Genevieve was in jeopardy. We didn't.
We were brought to our knees and reached a place of knowing there was nothing else we could do.
I often wonder what could have been if I would have surrendered in the first place to God's plan for my growing family. Could we have saved thousands of dollars on fertility treatments and the emotional turmoil? Could we have been spared the emotional trauma of waiting for Genevieve? Could we have been spared the sleepless nights during my cancer treatment?
Yes, probably so, but I also know God showed us much through our situations too. Through those doubts and sleepless nights.
Even when we "mess up", we can trust God uses ALL things together for our good. Just another reason He is just so incredible.
And I am ALL about fertility treatments, cancer treatment, adoption, etc…
I am by no means saying that we should just surrender and not do anything!
No… As Joyce Meyer says, "When we ask God to direct us, we have to move to be directed!"
If our car is parked and not moving, God can't tell us to turn right or left. I am all about taking action, but I know that things would have been much easier in my life if I surrendered to God sooner.
Once we surrendered completely to God for our family, we had our Genevieve, miraculously got pregnant, and are also expected our third child through adoption. Of course, it is not always so "touchy-feely", but it really has been that way in our case once we chose to surrender in these big areas.
We still have difficulties. There is still much unknown in our life right now.
But one thing is for sure, whatever we do, wherever we go, whatever our situation—we want it to be encompassed by one word- SURRENDER.
Thank you for continuing to lift us up. Lots to do before we leave. Please pray for everything to go smoothly—provision in every way. We trust that the Lord has gone before us and is guiding our every step as we take this leap of faith to head to Kentucky.
I surrender all,
Aly