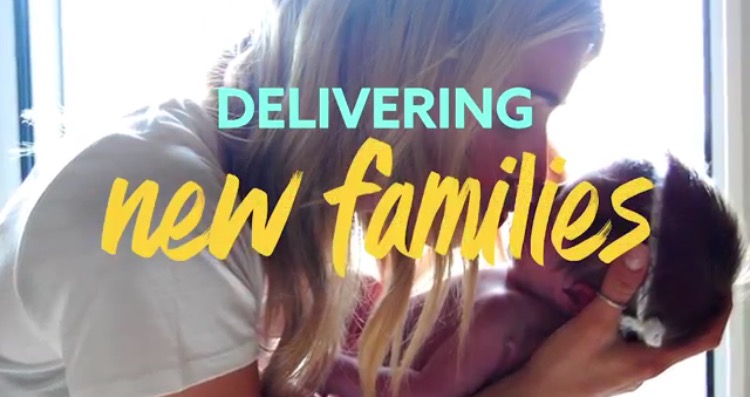 We Are Going to Be on TLC's "Rattled"!
Most of you know by now that our family and journey of pregnancy and adoption will be featured on a 10-episode series entitled "Rattled."
We are so excited, nervous, anxious and ready to watch it and share it with the world!
We have gotten so many questions since we have shared the news of the show with you guys, so we wanted to make a general question list to hopefully answer some of the most frequent ones.
Here are the questions we'll answer below:
How did you get on the show?
What made you say "yes" to the show?
Are you aware of the negative comments people will say about you and your kids?
Is this a "special" on TV?
Are you done filming?
Are you worried about how you will be portrayed?
Are the kids on the show?
How long is the season?
Have you met the other couples?
Who else of your family and friends are on the show?
How did you get on the show?
This answer is funny. I got a text message from my aunt last summer that literally started with the words "Don't Kill Me!"
She said that it just struck her one day to email a casting director at TLC and just send them the link to our website. She expressed that she never expected a response, but they responded very quickly. She said that she should have asked us first, but just sent the email kind of on a whim!
Funny thing was, we got an email from the production company before we got the text from my aunt telling her she had sent an email, and we weren't so sure all of this was real! When we heard from my aunt, we thought, "oh my goodness, this is real!"
When we finally talked with the production company, they explained they were looking for a family just like us for this season.
Can you say whirlwind??? This wasn't something we pursued at all. I know my sweet aunt was feeling crazy for having sent them email (Even though we all know it was totally a God-thing). And now we were in deep discussion if we would be willing to be on a show to document us and the birth of the babies.
At first we weren't so sure. Honestly, we said no at first. We had lots of discussion with the casting people, the owners of the production company, and it all revolved around the protection of our family.
We did not know that they officially asked us on the show until days before we left for Kentucky.
What made you say "yes" to the show?
 Well, first off, we must tell you that it wasn't immediate. We took a full two months to pray and seek wisdom from the time they first called us to the time when they officially asked us to be on the show.
We asked a MILLION questions, made contract changes, and ensured protection of our family in the best ways we knew how, after seeking wisdom from others who had walked this road before us.
Here's the thing: before we were approached about the show, we felt God calling us to share our story. You saw us do this at churches, cancer groups, infertility groups, writing books…TV was something we never considered. This avenue just happened to give us a platform we couldn't buy. We were already doing ministry—this just gave us an opportunity to do it on a grander scale.
What it finally came down to was us knowing there were risks, but just trusting the Lord would protect us, knowing that our main goal of doing this show was to share our story and bring hope and healing to a hurting world.
If I had seen a story like ours when I was dealing with any of our struggles over the past 5 1/2 years, the hope I would have been given would have been tremendous. I am praying for every person who watches the show to see Jesus like never before.
Are you aware of the negative comments people will say about you and your kids?
YES! When people bring this up to us, we kind of laugh inside because of course we have thought about this! This was our main concern about doing the show—the negative consequences it could possibly have for our family.
This was one of the huge holdbacks for us saying yes. We are praying the negative comments are as few as possible, but there are people out there that just want to hurt others!
There are also people out there that just want to be mean!
Most of these people do not know our whole story, and because we keep parts of our story private (especially our entire adoption story), people make assumptions without knowing the whole story, which we aren't willing to fully share.
We share the basics of it, but we realize that we want to protect the birth mother and the girls at all costs. Most of you reading this do not know the full story the adoption, and that is intentional! There are just parts of the story that we believe need to be kept private.
*Side bar* You, as our friends, need to know that we will not wage war with negative comments on social media. We will block people from our sites that simply want to be negative. Our goal is to help people fighting cancer, survivors, struggling with infertility, and going through the adoption process. We will not converse with people that want to engage in negative activity, and we ask that you don't either.
There are things we have shared on the blog in previous years that we have now taken down. We wanted to share that with people who had prayed us through the last 5 years, but not necessarily the entire world. So, if you know some of our story that we didn't share on TV, we ask that you do not divulge that information through social media.
But some people are mean and will be, but we are praying for protection and have asked God for wisdom with what to share with the world while also protecting our family in the best way we know how.
So, yes, we are aware of the "haters" and we will strive to ignore those people and focus on all of the people that are truly seeing God move in incredible ways through our story.
Is this a "special" on TV?
No, it isn't a special. It is a series. Last year, they had the first season of Rattled. It had 6 episodes with 4 couples, and this season, 2 of last year's couples come back on the show, and 3 new couples are added. The series will have an episode every Tuesday night starting July 11th 10/9c and go until September.
Are you done filming?
Yes! We are done filming. The majority of the filming happened in Kentucky almost a year ago. They also filmed me in Houston for my 5-year cancer visit. We were grateful for this in that our everyday lives weren't interrupted. They filmed a few things back home once we made it back to West Monroe. The majority of things they filmed in West Monroe were interviews about what happened in Kentucky and then in Houston.
Are you worried about how you will be portrayed? 
Of course! I think anyone who says "no" isn't being completely candid. We all see reality shows where people look crazy and see those people come out and say that the editing made it look to be something it wasn't. We know there is a possibility for this, but we gave them us. We wanted to be as genuine as possible and just be ourselves. We do know that it is up to them how we are portrayed, but we did try our hardest to just be ourselves and give people a real look at our story.
Are the kids on the show?
Yes, the kids do make cameos. Funny enough, they really aren't on the majority of the filming (which we were pleased with). Even though much of the story is about them, they weren't filmed as much as you would think, but you will see them on the show!
How long is the season?
The season is 10 episodes long, and will go into September.
Have you met the other couples?
We haven't met the other couples! We hope to at some point, because we know we have all been on a similar journey with the filming, but we do not know any of them!
Who else of your friends and family are on the show?
Our parents are the other main people on the show, as they lived with us in Kentucky and were a huge part of everything there! They are nervous about being on it, as we all are, but it was fun to do this together. You will see some other familiar faces here and there. We had a party at our house in October, and you will also see some friends and family members in the audience there.
Our ask of you:
Our main ask of you is prayer. I used to always leave prayer points at the end of my blog posts when fighting cancer, and here I am doing it again. Please pray these things with us:
As our story is shared, that God is so real to the viewers. That hope and healing are brought to many and that people would come to know the Lord through our incredible story.
Protection of our family. That God would protect us from the darts of the enemy.
Pray for us to know and realize this is ALL about him. And for us to keep our minds fixed on that.
Thank you guys! We love you. What an incredible next part to our story! Can't wait to watch alongside of you all. We plan to do live videos after each episode so we can share more of what was going on and answer questions.
Love,
Josh and Aly