---
Dear Cancer: 
My Wife is One Strong Lady, You Lose.
---
Simple
I am a simple girl. Wife, daughter, cancer survivor, doctor, therapist, I am simple girl.
Cancer taught me so much about living simply.
It forced me to slow down my busy life and how to truly live- not just exist. Simple living= extraordinary life.
Love
I am 27 years old and am head-over-heels in love with my husband of eight years, Josh.
We are COMPLETE opposites. Our love is sometimes easy, but often time takes lots of work and effort.
Grieving and growing together, realizing our plans for our life were not God's–we have had to dig in to finding what loving each other in sickness and health is all about.
Cancer
I am healed of Stage 3, advanced breast cancer.
My story is nothing short of incredible. I am redeemed by the blood of the Lamb.
I will overcome by the word of my testimony. Thank you for being a part of my sharing what God has done. I'll never stop sharing…
---
'How Cancer Made Me A Mommy'
We are beyond excited to be able to offer you our first book about the journey we have been on over the last 3 1/2 years.
This book is from Aly's perspective. It covers the emotions of being diagnosed with breast cancer at age 24 and what Aly went through- physically, emotionally, spiritually.
It mainly focuses on the process we have been through as we have been trying to have children.
From natural attempts at pregnancy, to fertility medication, to IVF, to adoption- you get a front row seat to see the joy and the pain from Aly's point of view of an "infertility" diagnosis.
This is a 'Pre-Order'. The cost is $15 per copy. The book cover is complete and the text is written. After a few more rounds of editing and proofing, we will be shipping our first printed books to our incredible friends, family and supporters. The reason for the 'pre-order' is to start obtaining funds for our adoption as soon as possible.
We are incredibly grateful for your support of us and our story. We believe a book, as well as more books to come, allow us the greatest reach to tell others our miraculous story and bring the hope of Jesus to many!
PLEASE READ BEFORE ORDERING:
If you want to buy one book and no donation then simply click Pay Now with 1 Book in the drop down menu.
If you wish to either buy 2 or more books please select that from the drop down menu, then enter how many copies you want in the last box and press Pay Now.
Lastly, if you wish to buy a book or books, and donate then please just enter the total amount (book costs $15, plus donation) in the OTHER box. (the drop down list is de-activated when any amount is put in the OTHER box.) Then in the last box please put the number of books you wish to buy. Then click Pay Now.
---
---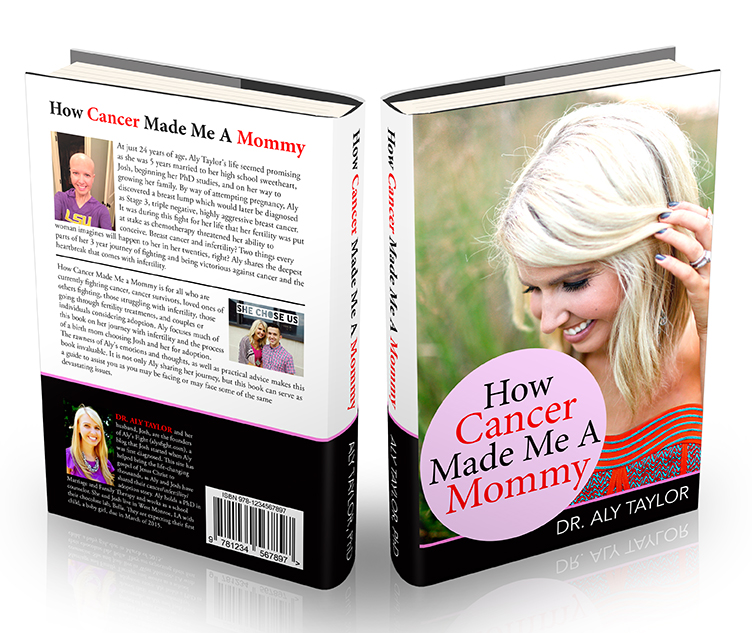 ---
Check out our gender reveal!
---
Andric Daugherty
Administrative Pastor
Pathway Church
---
---
"Josh and Aly Taylor have an amazing story of struggle, victory, and celebration that will challenge your congregation to expand their faith.  They spoke at our Mom's Prayer event, Fight Like A Mom and shared their incredible story. You will be amazed through the course of their testimony at how much God did in them and now how much He is doing through them.  Pathway Church has fell in love with this precious couple and your church will be blessed and lifted up through their story.  At Pathway Church we have a slogan, "Real People, Real God, Real Difference!   Josh and Aly are so real, they show God in everything they do, and they are making a huge difference in the Kingdom of God."
What To Expect
Whether you are looking for both us to tell our story or you want just one us there are a few things you should know.
We are passionate about God's hand in our story. Whether it is Aly speaking to the idea of self worth or Josh addressing brokenness you will get humor, tears and the overwhelming idea of God's hand.
Topics
Our Story of Healing
Lasting Happiness
Changing Your Words
You are Wonderfully Made
I wasn't made to be a Mother
Stopping the glorification of busy
Healing through vulnerability
Power of Mentoring
Be Someones "They" (Mark 2)